What's a large size PE roll?
Large size PE roll is a large PE film roll from 5kg, 10kg, 18kg, 35kg, 50kg, … Wide from 500mm – 1500mm, adhesion from 10mic – 30mic. Therefore, it is used in areas such as pallet wrapping, better puncture resistance to save packaging costs, easy wrapping around the goods, ensuring the stability of the pallet at all times during storage and transport.
Specifications
Material: 100% virgin PE plastic
Size: diverse specifications with width from 500mm – 1500mm, adhesion from 10mic – 30mic, manufactured according to customer's requirements.
Thickness according to customer's request
Capacity: 10 – 50 tons/month
Please provide us with your required product specifications, our aim is to provide you with the most suitable products as well as the best service.
Benefits
At home, PE film is used to wrap food to protect food from dirt, insects,… it helps to preserve food longer, fresher, and cleaner.
In industry, PE film is used to wrap goods, components, to cover the pallet, … to protect them from impact, mold, dust … while moving or also packaging products.
In agriculture, PE film is often used to cover agricultural products, cover the soil to avoid pests, weeds, or used in greenhouses.
In fisheries, PE film is used to preserve frozen seafood.
In the furniture industry, PE film is used to wrap the furniture after manufacturing to avoid dirt and scratches while shipping products.
PE film in composite/multilayer packaging: PE film acts as a sealing layer in the structure of complex or multi-layer packaging.

Classification
PE plastic is the most important of all plastic materials.
According to the properties, PE plastic films are classified into the following main groups:
High density HDPE, density = 0.941 – 0.965g / cm3. HDPE waterproof membrane is popularly used in domestic landfills, industrial landfills, and wastewater treatment systems to ensure to limit environmental pollution. This is also considered an eco-friendly product.
Low density LDPE, density = 0.91 – 0.925g / cm3. LDPE plastic film: The most important and most common, is used to cut PE plastic bags for goods.
MDPE average density, density = 0.926 – 0.940g / cm3. MDPE nylon films are used to thin films or required to produce films with higher hardness or higher softening temperature than LDPE.
By color, there are clear PE and milky white PE 
Depending on your requirements, we can provide products with different specifications, thicknesses, and adhesions.
Features
Uniform thickness
Corona ≥ 38, ensuring adhesion with glue
Material 100% virgin PE and also soft, supple, high properties.
Good clarity. Milk PE film has high turbidity.
Good adhesion and stability.
Good anti-static ability.

Production process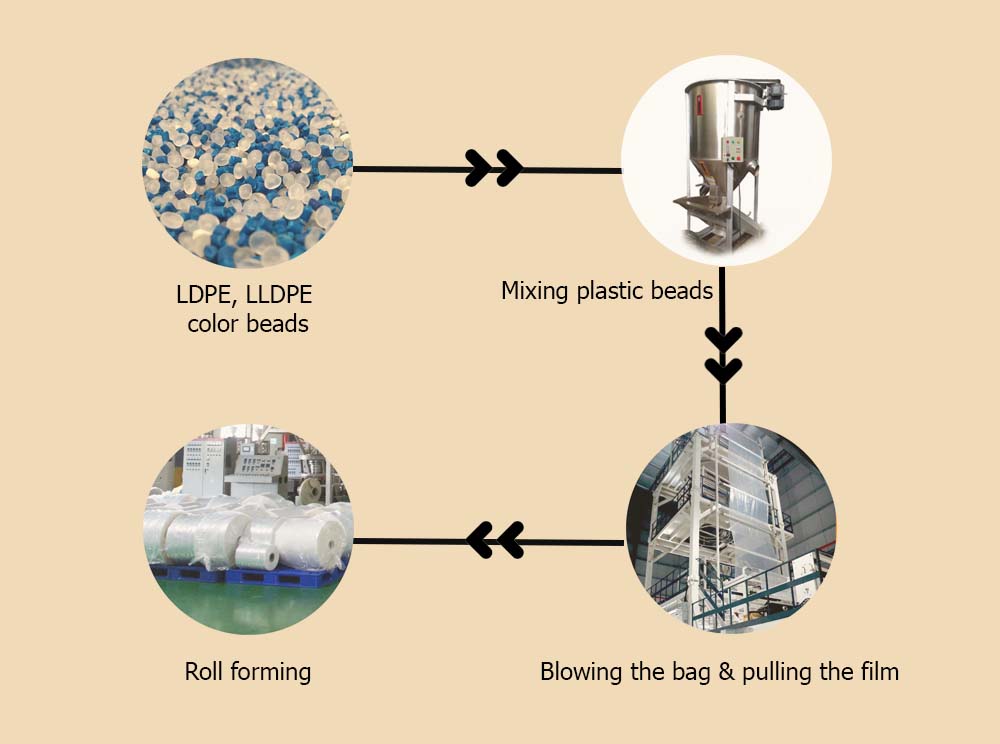 Why choose us?

Bao Ma Production & Trading Co Ltd is complying with the ISO 9001-2008 which ensures the quality control system and the ability to produce different materials and sizes of poly bags and rolls, including:
Packing products for agricultural, aquatic, food consumption, industrial purposes.

Zip-lock bag, shopping bag, garbage bag, plastic carriers.

Plastic sheeting

Perforated plastic roll

Poly roll of 2m – 4m measurement for the use of lining prawn-raising ponds, for construction sites and sewage system usage, and as cover sheets for agricultural and industrial purposes.

Printing services on packages of up to 6 colors with customization

Trading various plastic raw materials such as PP, HDPE, LDPE, LLDPE…
So, please contact us via hotline: (028) 37540 999 – 096 314 5959 and let us be honored to serve you in the best way possible.
BAO MA PRODUCTION & TRADING COMPANY LIMITED
Address: No. 21 Tan Tao Industrial Park, Road No. 3, Tan Tao A Ward, Binh Tan District, HCMC
 Tel: (028) 37540 999 – 096 314 5959
 Email: info@poma.com.vn
 Website: www.poma.com.vn