What's the agricultural PE film roll?
Agricultural mulch is a type of plastic film – rolled or folded – that is used under the ground, covering the roots of crops, to facilitate the cultivation of crops. Agricultural mulch is used to alter soil temperature, limit weed growth, prevent moisture loss, and improve crop yield and maturity.
Specifications
Material: 100% virgin PE plastic
Size: Dimensions from 2m – 4m wide, manufactured according to customer's sample requirements.
Thickness according to customer's request
Color: according to the customer's request
Capacity: 10 – 50 tons/month
Please provide us with your required product specifications, our aim is to provide you with the most suitable products as well as the best service.

Benefits
Agricultural mulch improves crop yield and maturity. The growth of vegetation on the mulch can be twice that of the growth of plants on the soil.
Since mulch increases the temperature of the soil in the bed, it promotes faster plant growth and earlier harvest.
Save the cost of weed control. The structure of the mulch film will reduce light penetration into the soil. Weeds usually cannot survive under such mulch.
Reduces soil compaction: Since mulch does not allow much water to wet the soil, the soil under the plastic mulch remains loose and well aerated. This allows the roots access to adequate oxygen and at the same time, it enhances microbial activity.
Cleaner vegetable production: Since there is no soil splashing on crops or fruit, the produce harvested from crops covered with agro-film is cleaner and less prone to rotting; the plastic must be stretched to allow water to flow out upon installation.

Classification
There are different colors of agricultural mulch for crops in different climates.
White coating on top and black underneath – This is always the optimal choice for places with hot climates. The white mulch will keep the soil cooler than the black mulch. It can reduce the temperature of the soil by up to 12 degrees Fahrenheit.
Red coating – this is great for tomatoes and strawberries. Red light is reflected back to the plant. This is very helpful in increasing photosynthesis. This color will raise the temperature of the soil by 4 to 6 degrees F.
Green Coating – This is good for cucumbers, squash, and melons. This will raise the soil temperature a little more than black.
Black Coating – This can be used for cool-season crops. The temperature of the soil will be increased by 3 degrees to 5 degrees F.
Metallic mulch – This is said to help control pests. It has been shown to reduce aphids and whiteflies. It is believed that the metallic luster confuses insects.

Features
Uniform thickness
Corona ≥ 38, ensuring adhesion with glue
Material 100% virgin PE and also soft, supple, high properties.
Good clarity. Milk PE film has high turbidity.
Good adhesion and stability.
Good anti-static ability.
Production process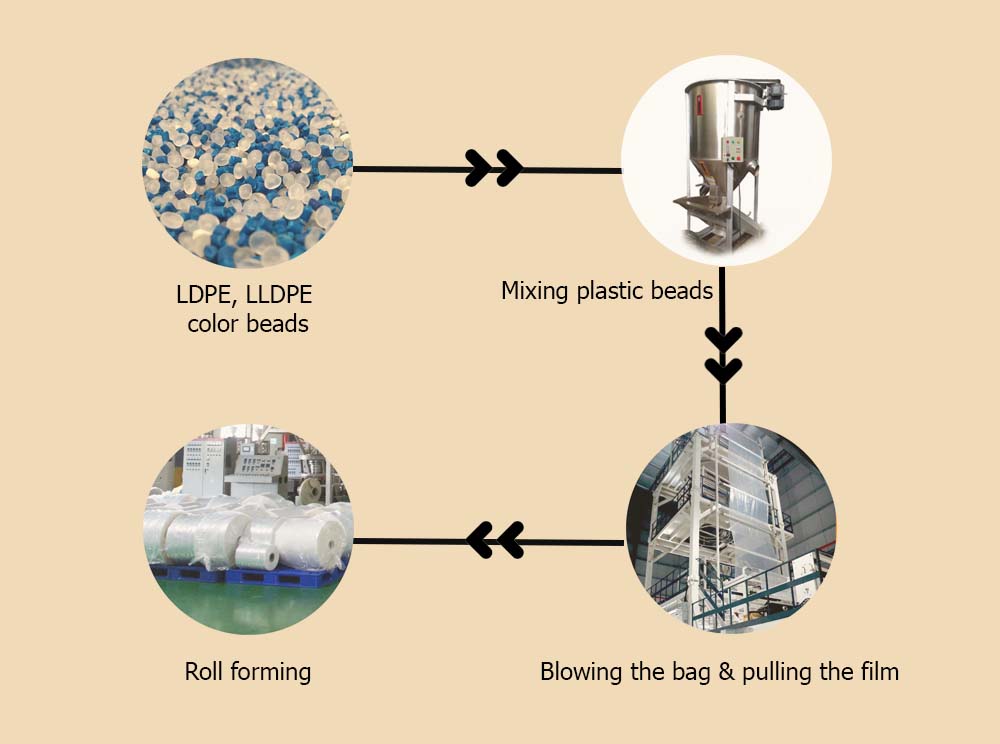 Why choose us?

Bao Ma Production & Trading Co Ltd is complying with the ISO 9001-2008 which ensures the quality control system and the ability to produce different materials and sizes of poly bags and rolls, including:
Packing products for agricultural, aquatic, food consumption, industrial purposes.

Zip-lock bag, shopping bag, garbage bag, plastic carriers.

Plastic sheeting

Perforated plastic roll

Poly roll of 2m – 4m measurement for the use of lining prawn-raising ponds, for construction sites and sewage system usage, and as cover sheets for agricultural and industrial purposes.

Printing services on packages of up to 6 colors with customization

Trading various plastic raw materials such as PP, HDPE, LDPE, LLDPE…
So, please contact us via hotline: (028) 37540 999 – 096 314 5959 and let us be honored to serve you in the best way possible.
BAO MA PRODUCTION & TRADING COMPANY LIMITED
Address: No. 21 Tan Tao Industrial Park, Road No. 3, Tan Tao A Ward, Binh Tan District, HCMC
 Tel: (028) 37540 999 – 096 314 5959
 Email: info@poma.com.vn
 Website: www.poma.com.vn