What's a PP clear bag?
PP clear bag is a kind of PP plastic bag. Because this bag is transparent and shiny, it helps customers to easily see the product inside the bag, often used for packaging food such as bread, cookies, and candy, … and packaging cosmetics and fashion.
Specifications
Material: 100% virgin PP plastic
Size: various specifications from 03cm – 80cm, manufactured according to customer's sample requirements.
The thickness on request: up to 3mic export standard
Colour: transparent or according to the customer's request
Capacity: 10 – 50 tons/month
Please provide us with your required product specifications, our aim is to provide you with the most suitable products as well as the best service.

Benefits
Transparent PP bags are a popular type of bag in packaging confectionery, accessories, dry goods, clothes, and clean vegetables… because of the transparency throughout and because the product inside is extremely delicate. The transparent PP bag also helps the products to be best preserved, enhancing the brand value many times.
Transparent PP bags are sturdy, have a transparent structure throughout, slightly stiff. This type of bag is designed as a flat mouth bag, with no hip folds, and no perforations, so it is very suitable for packing all items.
High-grade transparent PP bags are odourless, tasteless, and have no harmful chemicals, so they are safe in packaging and preserving all kinds of confectionery, food, etc. Moreover, PP bags have a fast decomposition time, so many businesses in The industry prefer and uses PP bags more and more.

Features
Transparent PP bag with high gloss surface for high printability, and clear print.
PP bags have good temperature resistance (more than 100°C), waterproof, moisture, steam, and grease resistance.
PP bags have a high thickness, high toughness, and durability.
PP bags have high elasticity and good heat resistance.
PP bags are safe for users.
Production process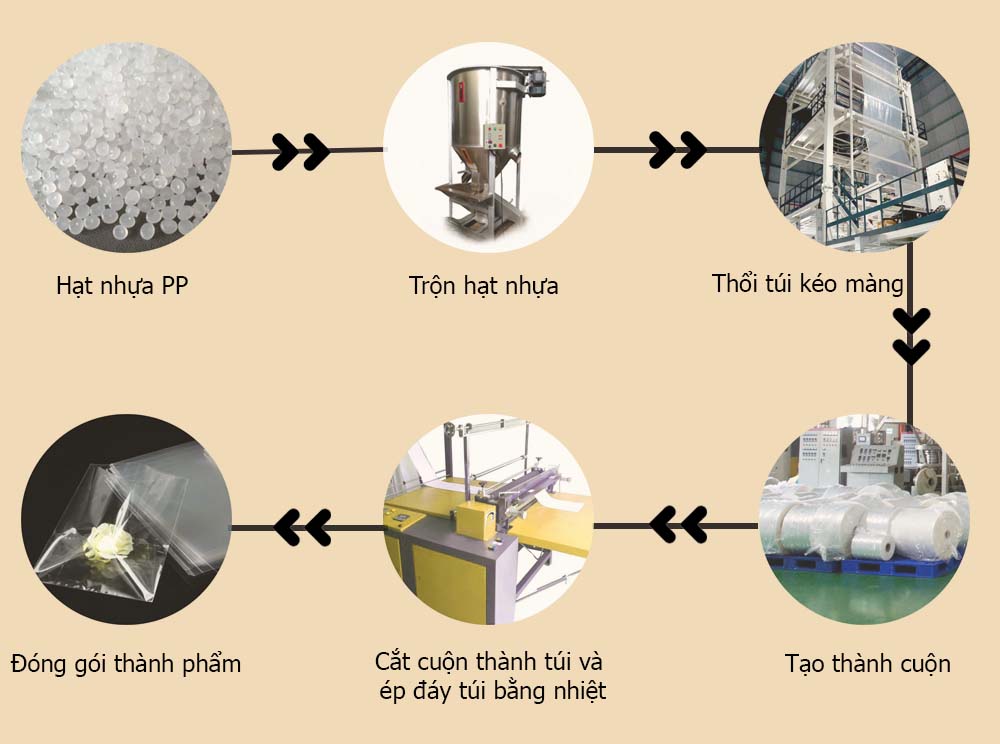 Why choose us?

Bao Ma Production & Trading Co Ltd is complying with ISO 9001-2008 which ensures the quality control system and the ability to produce different materials and sizes of poly bags and rolls, including:
Packing products for agricultural, aquatic, food consumption, and industrial purposes.

Zip-lock bags, shopping bags, garbage bags, and plastic carriers.

Plastic sheeting

Perforated plastic roll

Poly roll of 2m – 4m measurement for the use of lining prawn-raising ponds, for construction sites and sewage system usage, and as cover sheets for agricultural and industrial purposes.

Printing services on packages of up to 6 colours with customization

Trading various plastic raw materials such as PP, HDPE, LDPE, LLDPE…
So, please contact us via hotline: 0963 16 11 55 – 0903 814 184 and let us be honoured to serve you in the best way possible.
BAO MA PRODUCTION & TRADING COMPANY LIMITED
Address: No. 21 Tan Tao Industrial Park, Road No. 3, Tan Tao A Ward, Binh Tan District, HCMC
 Tel: 
Ms Kim Tuyen: 0963.16.11.55 (Vietnamese)
Mrs HelenLy: 0903.814.184 (English – Chinese)
 Email: info@poma.com.vn
 Website: www.poma.com.vn