BAO MA PRODUCTION & TRADING COMPANY LIMITED

Bao Ma Production & Trading Co Ltd is a leading manufacturer and distributor of various types of LDPE, HDPE, PP plastic packaging products in Viet Nam under the POMA® brand name. The company history is dated back to 1987 when it was formerly known as Vinh Dat Packaging Factory.
Bao Ma Production & Trading Co Ltd has build up its capabilities and capacity in manufacturing various poly packaging products. At present, Bao Ma Production & Trading Co Ltd is complying with the ISO 9001-2008 which ensures the quality control system and the ability to produce different material and sizes of poly bags and rolls, including:
Packing products for agricultural, aquatic, food consumption, industrial purposes.

Zip-lock bag, shopping bag, garbage bag, plastic carriers.

Plastic sheeting

Perforated plastic roll

Poly roll of 2m – 4m measurement for the use of lining prawn-raising ponds, for construction sites and sewage system usage and as cover sheets for agricultural and industrial purposes.

Printing services on package of up to 6 colors with customization

Trading various plastic raw material such as: HDPE, PP, HDPE, LDPE, LLDPE…
In 2008, we have restructured our company and invested in new machinery and technology. We are now ready to embark on the new operation line and to provide you with completed and value-added products and quality services. Our slogan, "Always strive to be perfect and innovative", will be our promise to you.
 Overview of our infrastructure
– Manufacturing site of 7,200m2  
– LDPE Blowing machine                   : 25 sets
– PP Blowing machine                       : 14 sets
– HDPE Automatic Blowing machine : 10 sets
– Cutting and Sealing machine          : 41 sets
– PE Sheet Blowing machine             : 6 sets
– Bronze printing machine and Plexo of up to 6 different colors.
Overview of our capacity  
– Maximum production capacity : 8,400tons/year
– Average working capacity 6000 tons/year
– Workforce : 130 personnel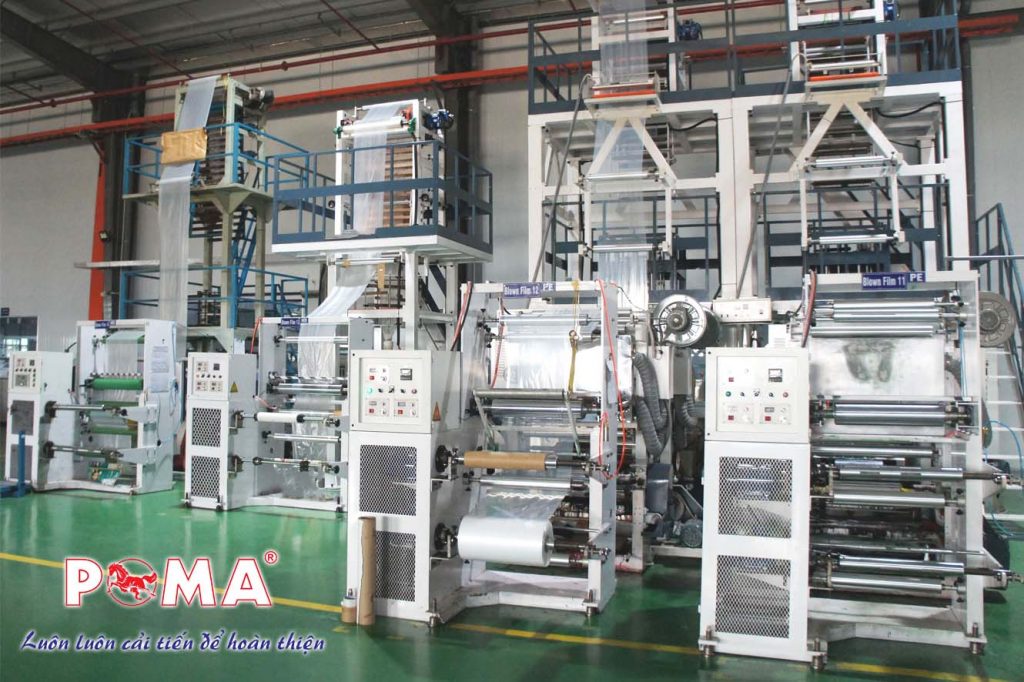 Our Misson and Vision
Our Vision
We strive to be the best and biggest manufacturer and distributor of plastic packaging in Vietnam. We want to build up the brand name of POMA® to be the leader in the packaging industry in providing high quality and safe products and services.
Our Mission
Committed to produce using 100% Virgin raw material in order to ensure our products quality and safety.

Always strive to provide value-added products and wholly services to our customers.

Be proactive in finding solutions and satisfying the needs of our customers.

In all that we do, we take the responsibility and initiative in serving our customers and building life-long sustainable relationship with our partners.

Continuously applying and maintaining latest technology and production system to ensure the quality of our products.
Our Logo
Bao Ma Production & Trading Co Ltd has registered our logo, POMA®, with the National Office of Industrial Property of Vietnam on the 11/05/2005 according to the Decree No. A4596/QĐ-ĐK
Description of our logo:
POMA® is the English name of Bao Ma. The word is in capital and has a white background with red outlining. Inside the letter O, there is a red horse which represents our best wishes and willingness to build up life-long relationship with our dear customers. Bao Ma means "precious horse" and horse is known for bringing prosperity and success to people and their relationship. Hence, we believe that our company will continuously grow with our staff and customers and together we can accomplish greater achievement in life.