What is a zipper bag?
The term "zipper bag" has become a generic way of referring to any self-sealing bag that is used to store food or other items. Zipper bags have several different kinds of closures. There is the classic "zip" version, where you press together two interlocking pieces of plastic. Newer bags may have a small tab that runs across the top of the bag to seal it closed. Those who freeze meat, fish, or products may opt for vacuum-sealed bags, which create an airtight seal and keep food extra fresh during its long, cold storage period.

Specifications
Material: 100% virgin PE plastic
Specification: zipper mouth with red or white border
Size: various specifications from 03cm – 80cm, manufactured according to customer's sample requirements.
Colour: Transparent
Thickness according to the customer's request
Capacity: 10 – 50 tons/month
Please provide us with your required product specifications, our aim is to provide you with the most suitable products as well as the best service

Benefits
Plastic zipper bags are mainly made of PE material, they are quite convenient because they can be closed easily. This product is used in many different industries.
Zip bags for the medical industry
Zip bags come in many different sizes, large and small, so it is quite popular in the medical industry, they can hold drugs or compact medical devices. The lock at the top of the bag is very tight so medicine or medical supplies are not affected by external factors.

Use zipper bags to pack food
Most people often use Zipper bags to store leftovers in the refrigerator. In addition, this product is also used in the food processing industry. The bag can hold dried foods such as coffee, dried fruits, cashews, tea …
Some zipper bags can also hold processed foods like bread, popcorn, and other fruit cakes. Silver bags are often displayed in exhibitions or fairs because of their beautiful and luxurious appearance.

Use zip bags to store electronic components
To avoid losing tiny electronic components, people often store them in small plastic zip bags. The zipper on the bag will prevent the component from getting wet or dirty on the outside.

Features
Uniform thickness
Corona ≥ 38, ensuring adhesion with glue
Material is 100% virgin PE and also soft, supple, high properties.
Good clarity. Milk PE film has high turbidity.
Good adhesion and stability.
Good anti-static ability.
Production process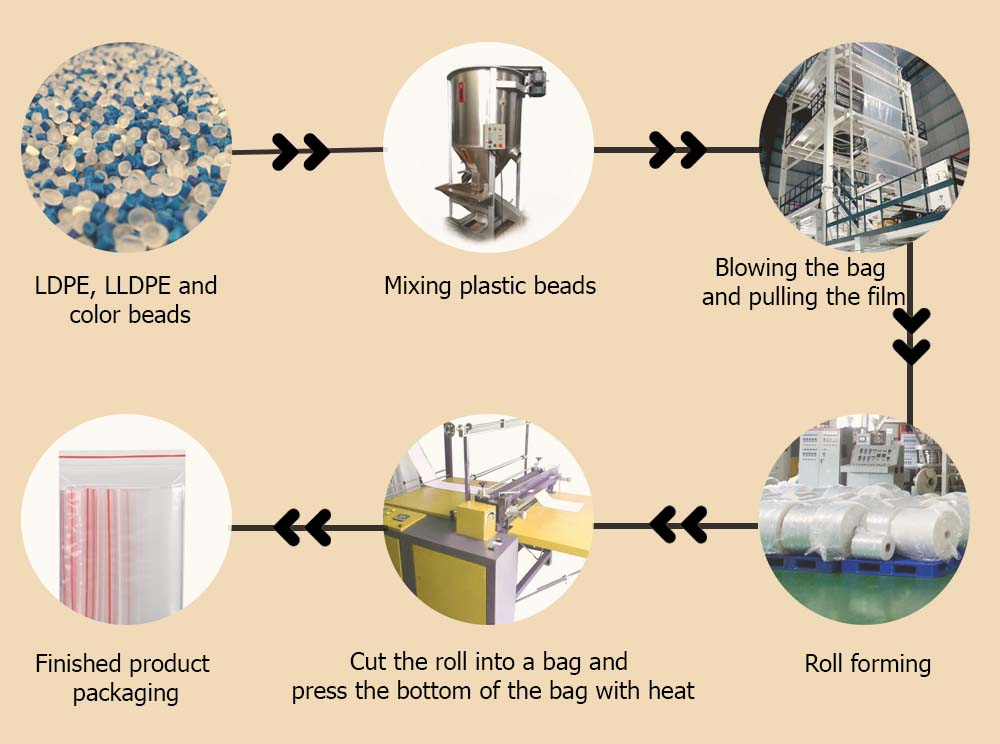 Why choose us?

Bao Ma Production & Trading Co Ltd is complying with ISO 9001-2008 which ensures the quality control system and the ability to produce different materials and sizes of poly bags and rolls, including:
Packing products for agricultural, aquatic, food consumption, and industrial purposes.

Zip-lock bags, shopping bags, garbage bags, and plastic carriers.

Plastic sheeting

Perforated plastic roll

Poly roll of 2m – 4m measurement for the use of lining prawn-raising ponds, for construction sites and sewage system usage, and as cover sheets for agricultural and industrial purposes.

Printing services on packages of up to 6 colours with customization

Trading various plastic raw materials such as PP, HDPE, LDPE, LLDPE…
So, please contact us via hotline: 0963 16 11 55 – 0903 814 184 and let us be honoured to serve you in the best way possible.
BAO MA PRODUCTION & TRADING COMPANY LIMITED
Address: No. 21 Tan Tao Industrial Park, Road No. 3, Tan Tao A Ward, Binh Tan District, HCMC
 Tel: 
Ms Kim Tuyen: 0963.16.11.55 (Vietnamese)
Mrs HelenLy: 0903.814.184 (English – Chinese)
 Email: info@poma.com.vn
 Website: www.poma.com.vn