What is a mango seed perforated plastic bag?
The mango seed perforated plastic bag is a square or rectangular plastic bag and is accompanied by a hole in the mouth of the bag with a mango seed shape or a circle or oval shape for convenience for customers to hold when using. The mango seed bag does not have a tie function like the T-shirt bag.
Even after they are no longer used for shopping reuse for storage or trash is common.

Specifications
Material: 100% virgin PE plastic
Size: diverse specifications from 04cm – 140mm, manufactured according to customer's requirements.
Thickness according to customer's request
Strap: perforated mango seed, no reinforcement around the handle.
Ink coverage: On request, customers can print up to 100% of the bag's surface
Capacity: 10 – 50 tons/month
Please provide us with your required product specifications, our aim is to provide you with the most suitable products as well as the best service.

Benefits
Commonly used in hospitals (for storing documents, X-ray films, papers, …), fashion products, private business stores in supermarkets, markets…
Commonly used in fashion stores, toys … or in the system of supermarkets.
Used in the cosmetic and food industries, especially high-end products.

Classification
The mango seed perforated bag has a slightly opaque color, brittle, hard, rough surface, so the information security is quite high. It's thin and light so it's easy to use.
The mango seed perforated bag has a shiny surface, good elasticity, so it has good bearing capacity. The bag looks luxurious and comfortable for the user.
The mango seed perforated bag is transparent, colorless, odorless, but quite brittle. It is suitable for products that the business store wants customers to see the product inside to create a trust for customers.

Features
Uniform thickness
Corona ≥ 38, ensuring adhesion with glue
Material 100% virgin PE and also soft, supple, high properties.
Good clarity. Milk PE film has high turbidity.
Good adhesion and stability.
Good anti-static ability.
Production process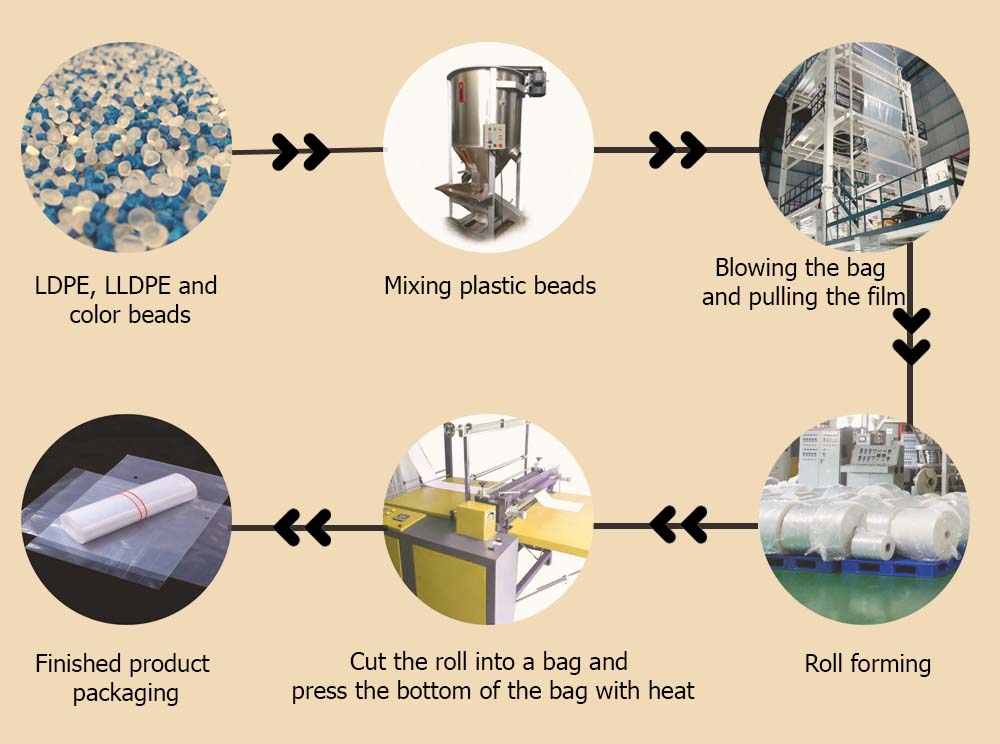 Why choose us?

Bao Ma Production & Trading Co Ltd is complying with the ISO 9001-2008 which ensures the quality control system and the ability to produce different materials and sizes of poly bags and rolls, including:
Packing products for agricultural, aquatic, food consumption, industrial purposes.

Zip-lock bag, shopping bag, garbage bag, plastic carriers.

Plastic sheeting

Perforated plastic roll

Poly roll of 2m – 4m measurement for the use of lining prawn-raising ponds, for construction sites and sewage system usage, and as cover sheets for agricultural and industrial purposes.

Printing services on packages of up to 6 colors with customization

Trading various plastic raw materials such as PP, HDPE, LDPE, LLDPE…
So, please contact us via hotline: (028) 37540 999 – 096 314 5959 and let us be honored to serve you in the best way possible.
BAO MA PRODUCTION & TRADING COMPANY LIMITED
Address: No. 21 Tan Tao Industrial Park, Road No. 3, Tan Tao A Ward, Binh Tan District, HCMC
 Tel: (028) 37540 999 – 096 314 5959
 Email: info@poma.com.vn
 Website: www.poma.com.vn