The term Poly bag specifically refers to single-layer polyethene bags, the most used plastic bags globally for many applications. Poly bags are versatile and affordable, making them a great alternative to cardboard boxes and other stiff, space-consuming packaging.
The easiest type of bag to find is a zipper bag. These functional plastic bags are everywhere: storing food, electronic parts, hospital materials… They are bags with a zipper at the mouth, flat PE bags that can be closed after opening to use the goods.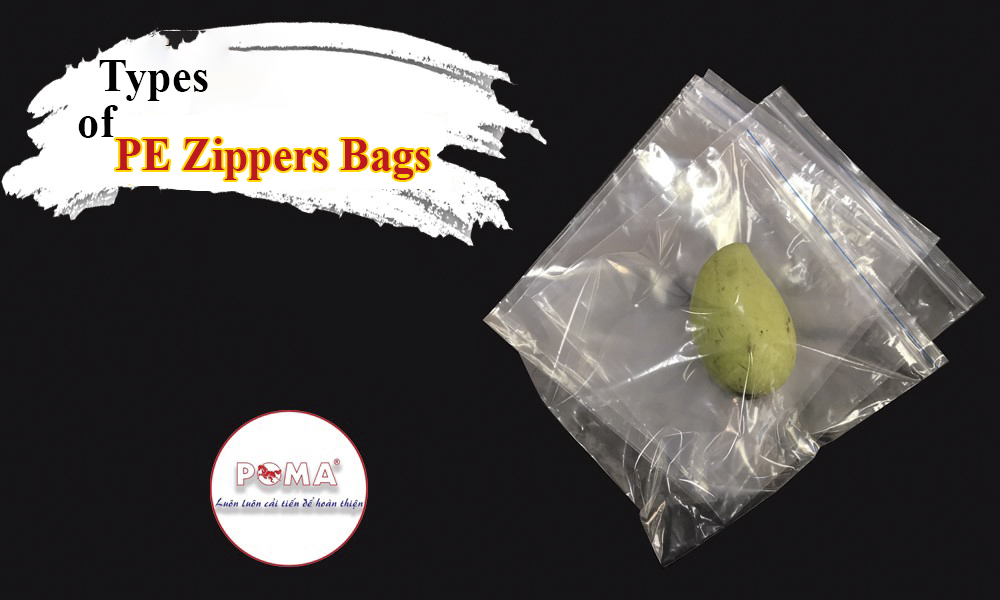 In addition to flat bags, hip bags can also combine zippers to hold goods and easily display them on shelves. Usually, this is a compound membrane type, also known as a complex bag.
The versatility of zipper bags has led to their solid presence in the food industry. Plastic packaging is becoming more popular due to its flexibility and customization.
Why add a zipper to your bag?
Plastic packaging is often heat-sealed during the product filling and filling process. The barrier helps keep oxygen and moisture out while maintaining the original aroma, flavour and texture as long as the bag is sealed tightly. Adding a zipper will turn a regular bag into a smart bag. Here are the main benefits you will get with that change: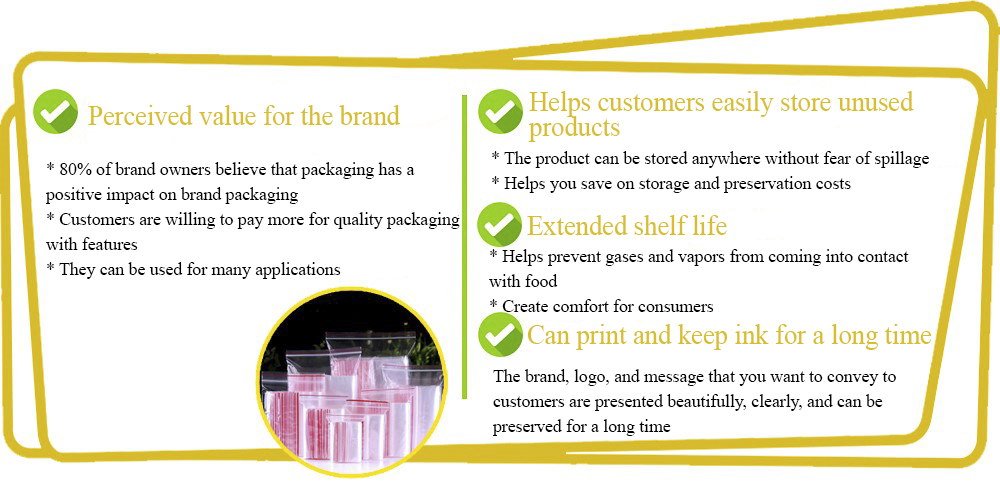 Common types of zippers for PE bags
There are many options to choose from according to your needs, products and packaging style. Here are some of the options we offer:
Zipper bag with red thread
Red thread Zipper bag, also known as red border zip bag, is a product made from plastic material that is safe for users. The hard and sturdy red border helps keep the mouth of the bag more sealed, thereby helping to keep items inside longer. Air and water from the outside can not enter, so the product inside is not damaged.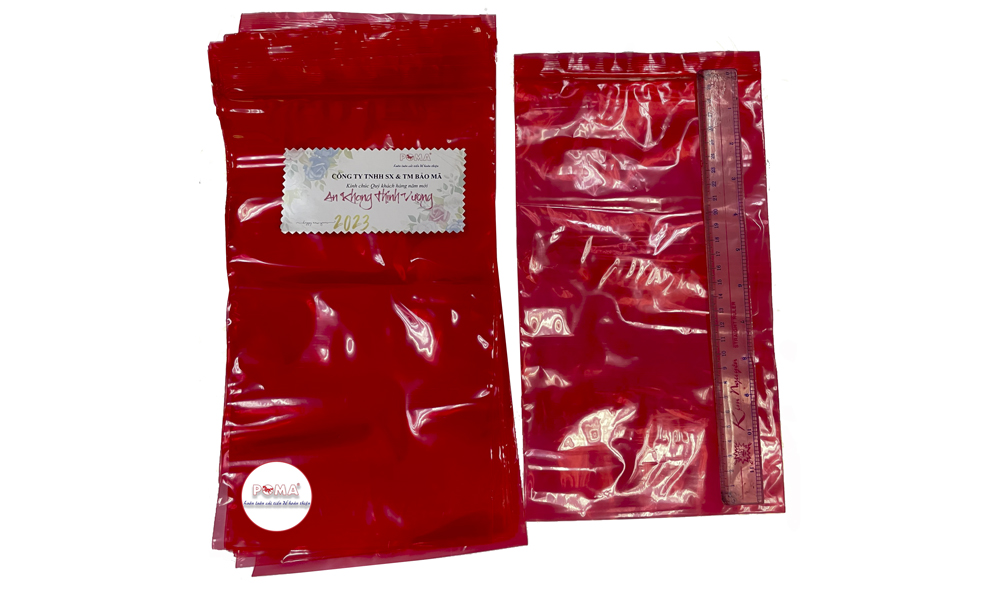 Zipper bag with green thread
A blue thread zipper bag is a plastic bag with a long blue thread running above the zip line near the mouth and is made from PE material. Green zipper bags are usually available in many different sizes for customers to choose from.
Zipper bag with white thread
The white thread zipper bag is transparent so the product can be easily seen when put in the bag. The zip line near the edge of the white bag is small but sturdy. White thread zipper bags are plastic bags made from high-quality PE plastic beads, so the bag has good transparency and flexibility.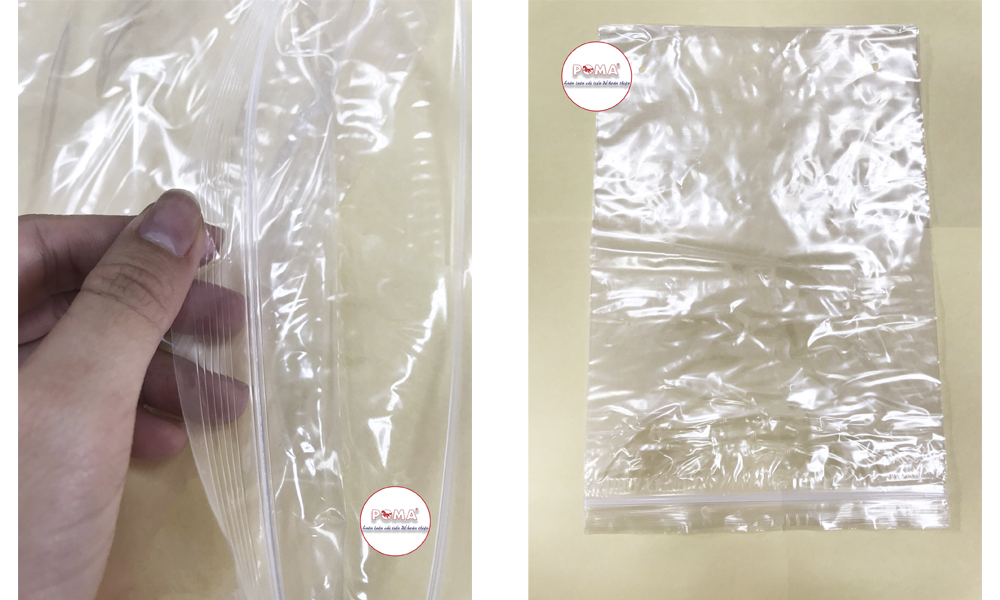 Printed zipper bag
Là túi zipper có in thương hiệu hoặc thông tin sản phẩm lên túi. Túi zipper có in giúp tăng tính nhận diện thương hiệu, đồng thời làm nổi bật bao bì của bạn hơn so với đối thủ cạnh tranh.
Application of zipper bags
Used for garment packaging
Fashion is the most visible application of the bag. Fashion stores often use this type of bag to store their products beautiful, and fragrant and keep their shape. At the same time, using separate bags for each item helps enhance the value of the product as well as the care of the brand.
Read more: Instructions on how to calculate the size of plastic bags lined with cartons or product boxes
Used to store food
Thanks to their airtightness, bags are used to store food. They help vegetables and fruits to be less damaged, maintaining freshness and nutritional value. Women who follow a clean diet often divide vegetables and fruits into portions and then put them in small bags for convenience, and the food is always fresh and delicious.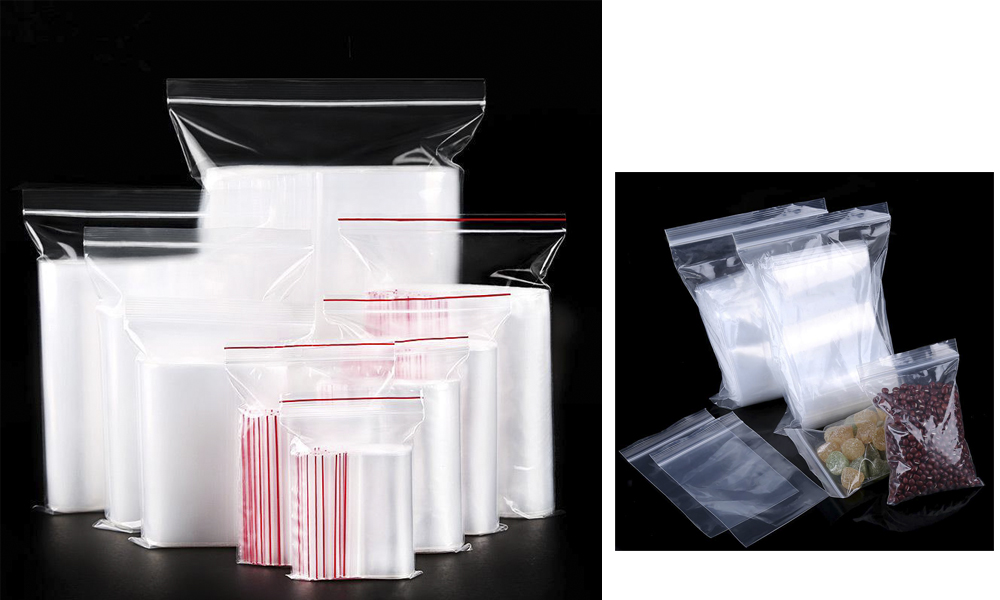 Used to hold medicine
Zipper medicine bags are zipper bags manufactured with suitable sizes to store medicines or medical equipment, used in hospitals and pharmacies. Usually can print more logos or information about the hospital, or pharmacy.
Used to hold cotton swabs
Zipper bags for cotton swabs are zipper bags manufactured with the appropriate size to hold cotton swabs and protect the safety of the product. Usually can print more logo or information of the business on the zipper bag to promote the brand.
Why choose us?

Bao Ma Production & Trading Co Ltd is complying with ISO 9001-2008 which ensures the quality control system and the ability to produce different materials and sizes of poly bags and rolls, including:
Packing products for agricultural, aquatic, food consumption, and industrial purposes.
Zip-lock bag, shopping bag, garbage bag, plastic carriers.
Plastic sheeting
Perforated plastic roll
Poly roll of 2m – 4m measurement for the use of lining prawn-raising ponds, for construction sites and sewage system usage, and as cover sheets for agricultural and industrial purposes.
Printing services on packages of up to 6 colours with customization
Trading various plastic raw materials such as PP, HDPE, LDPE, LLDPE…
So, please contact us via hotline: 0963 16 11 55 – 0903 814 184 and let us be honoured to serve you in the best way possible.
BAO MA PRODUCTION & TRADING COMPANY LIMITED
Address: No. 21 Tan Tao Industrial Park, Road No. 3, Tan Tao A Ward, Binh Tan District, HCMC
Hotline
Ms Kim Tuyen: 0963.16.11.55 (Vietnamese)
Mrs HelenLy: 0903.814.184 (English – Chinese)
Email: info@poma.com.vn
Website: www.poma.com.vn