What's the HD bags?
HD plastic bags are plastic bags with a slightly translucent surface, slightly rough, when crumpled, they easily form wrinkles. HD bags are often made thicker to create a sturdy, luxurious look.
Specifications
Material: 100% virgin HDPE plastic
Size: various specifications from 10 to 100 cm, manufactured according to the sample required by the customer.
Color: Red, yellow, orange, blue, black, white, colorless, or according to customer's request.
Capacity: 10 – 50 tons/month
Please provide us with your required product specifications, our aim is to provide you with the most suitable products as well as the best service.

Benefits
In all markets and grocery stores, people often use two-strap foam bags for food and utensils.
HDPE bags, when designed into rolls with a clear white color, are often used by supermarkets and trade centers to store food.
HDPE bags are also designed without handles to store household or production waste.
In agriculture, HDPE bags are also produced into large sizes to be used as biogas bags containing biodegradable organic matter and then extracted gas produced from the inside to serve the daily cooking needs of users.
Classify
Types of HDPE bags distributed on the market today
– HDPE bag
– HDPE shopping bag
– HDPE roll bags for garbage
– HDPE roll bags used in supermarkets

Features
Thin, surface with medium gloss and clarity

High water resistance but poor air permeability

The hardness is better than other plastic bags

Flexibility is average

Low elongation

Easy to create folds, wrinkles when folding bags, rubbing
Production process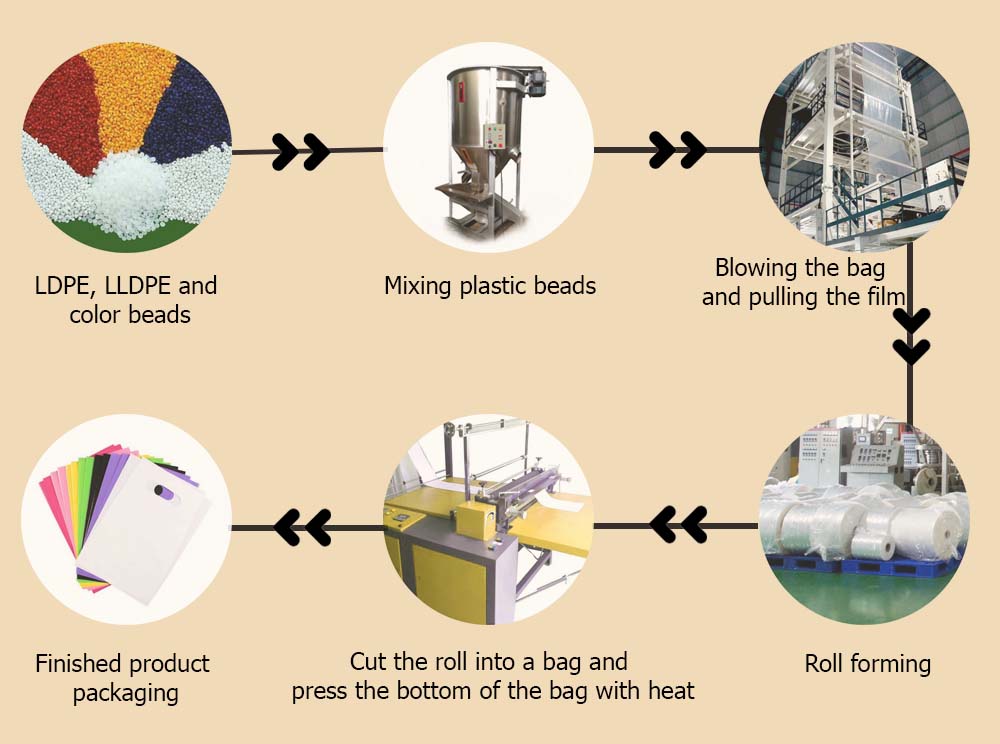 Why choose us?

Bao Ma Production & Trading Co Ltd is complying with the ISO 9001-2008 which ensures the quality control system and the ability to produce different materials and sizes of poly bags and rolls, including:
Packing products for agricultural, aquatic, food consumption, industrial purposes.

Zip-lock bag, shopping bag, garbage bag, plastic carriers.

Plastic sheeting

Perforated plastic roll

Poly roll of 2m – 4m measurement for the use of lining prawn-raising ponds, for construction sites and sewage system usage, and as cover sheets for agricultural and industrial purposes.

Printing services on packages of up to 6 colors with customization

Trading various plastic raw materials such as PP, HDPE, LDPE, LLDPE…
So, please contact us via hotline: (028) 37540 999 – 096 314 5959 and let us be honored to serve you in the best way possible.
BAO MA PRODUCTION & TRADING COMPANY LIMITED
Address: No. 21 Tan Tao Industrial Park, Road No. 3, Tan Tao A Ward, Binh Tan District, HCMC
 Tel: (028) 37540 999 – 096 314 5959
 Email: info@poma.com.vn
 Website: www.poma.com.vn