What is a garbage bag?
Garbage bags are a convenient product for everyone. Bags are made from plastic materials: HDPE with good toughness and elasticity. In particular, the bottom of the bag is firmly designed and pressed very tightly, preventing water leakage as well as dirty garbage when moving.
Colored garbage bags are packed in three rolls per kilogram which is convenient for households and offices with compact size, many different colors such as red, blue, yellow.

Specifications
Material: 100% virgin HDPE plastic
Size: diverse specifications, manufactured according to the samples required by customers.
Color: Red, yellow, blue, black, or according to customer's request.
Capacity: 10 – 50 tons/month
Please provide us with your required product specifications, our aim is to provide you with the most suitable products as well as the best service.

Benefits
Garbage bags do not contain toxic substances, are safe for users' health, friendly, and contribute to the protection of a clean and green environment.
The bag can be used to store many different types of garbage and is suitable for places such as households, offices, hotels, kitchens…
Garbage bags are durable, waterproof, and easy to transport. Especially when it rains, using plastic bags is extremely convenient.
Extra-large garbage bags can be used for many different purposes, holding large quantities. The product can be used to line the trash can to prevent water from flowing out.
This type of plastic bag can also store other miscellaneous items instead of plastic bags. Products can be washed, unlike paper bags.
Products on the market come in many different sizes that serve a variety of uses.
Reasonable price of garbage bags 
They are good waterproofing, impact resistance, and heat retention.
In the process of use, if people are more aware, they will protect the environment by collecting bags not to throw them around.

Features
The size of the trash bag fits the trash cans
Durable carrying bag, tough yarn, not easy to break.
Holds different types of waste.
The bag does not have an unpleasant odor, does not fade
Save time for you and your family.
Suitable for households, restaurants, hotels…
Production process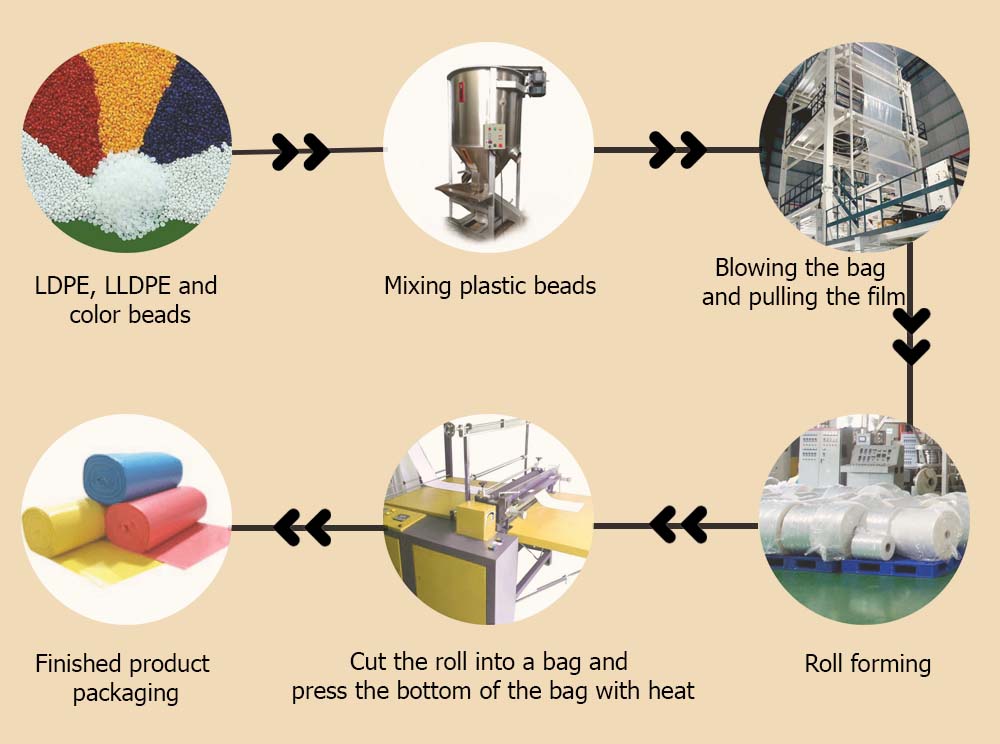 Why choose us?

Bao Ma Production & Trading Co Ltd is complying with the ISO 9001-2008 which ensures the quality control system and the ability to produce different materials and sizes of poly bags and rolls, including:
Packing products for agricultural, aquatic, food consumption, industrial purposes.

Zip-lock bag, shopping bag, garbage bag, plastic carriers.

Plastic sheeting

Perforated plastic roll

Poly roll of 2m – 4m measurement for the use of lining prawn-raising ponds, for construction sites and sewage system usage, and as cover sheets for agricultural and industrial purposes.

Printing services on packages of up to 6 colors with customization

Trading various plastic raw materials such as PP, HDPE, LDPE, LLDPE…
So, please contact us via hotline: (028) 37540 999 – 096 314 5959 and let us be honored to serve you in the best way possible.
BAO MA PRODUCTION & TRADING COMPANY LIMITED
Address: No. 21 Tan Tao Industrial Park, Road No. 3, Tan Tao A Ward, Binh Tan District, HCMC
 Tel: (028) 37540 999 – 096 314 5959
 Email: info@poma.com.vn
 Website: www.poma.com.vn