What's a roll-clear plastic bag?
Supermarket roll bags are made from HDPE plastic, and do not contain any harmful substances or additives that affect consumers' health. For the purpose of being used to store foods such as vegetables, tubers, fruits, …, fresh foods such as meat, and fish, …, dry foods such as confectionery, … and some other light goods.
Specifications
Material: 100% virgin HDPE plastic
Size: manufactured according to the sample required by the customer.
Colour: transparent, or according to customer's request.
Capacity: 10 – 50 tons/month
Please provide us with your required product specifications, our aim is to provide you with the most suitable products as well as the best service

Benefits
Supermarket roll bags are commonly used to store fresh food, vegetables, fruits, meat, etc. Ensure food hygiene and safety. HD roll bag is very convenient, more cost-effective, can be classified, and can hold many different items/products.
Super clear HD supermarket roll bags help protect fresh food, safe for health.
Content printed on the bag helps to promote the image and brand of the product, increasing the customer's memory of the brand.

Features
Here are some characteristics of supermarket roll bags:
High quality: safe, non-toxic, good vacuum effect, high transparency, good strength, toughness, easy to heat, good sealing,…

Safe, convenient, and risk-free: no BPA or any harmful substances, can be frozen, can be washed and reused.

Easy to cut and tear the bag: with the groove design, stamping between the bags makes it easier to separate between the bags.
Production process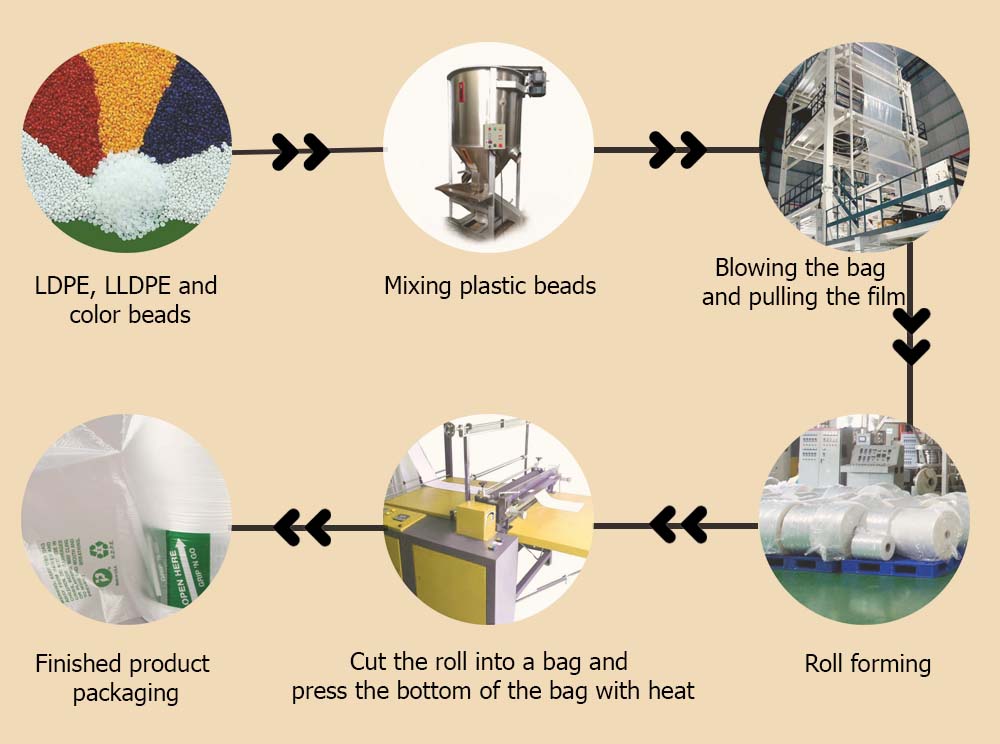 Why choose us?

Bao Ma Production & Trading Co Ltd is complying with ISO 9001-2008 which ensures the quality control system and the ability to produce different materials and sizes of poly bags and rolls, including:
Packing products for agricultural, aquatic, food consumption, and industrial purposes.

Zip-lock bags, shopping bags, garbage bags, and plastic carriers.

Plastic sheeting

Perforated plastic roll

Poly roll of 2m – 4m measurement for the use of lining prawn-raising ponds, for construction sites and sewage system usage, and as cover sheets for agricultural and industrial purposes.

Printing services on packages of up to 6 colours with customization

Trading various plastic raw materials such as PP, HDPE, LDPE, LLDPE…
So, please contact us via hotline: 0963 16 11 55 – 0903 814 184 and let us be honoured to serve you in the best way possible.
BAO MA PRODUCTION & TRADING COMPANY LIMITED
Address: No. 21 Tan Tao Industrial Park, Road No. 3, Tan Tao A Ward, Binh Tan District, HCMC
Tel: 
Ms Kim Tuyen: 0963.16.11.55 (Vietnamese)
Mrs HelenLy: 0903.814.184 (English – Chinese)
 Email: info@poma.com.vn
 Website: www.poma.com.vn