What's a large-size PP roll?
Large size PP roll is a large PP film roll from 5kg, 10kg, 18kg, 35kg, 50kg, … Wide from 500mm – 1500mm, adhesion from 10mic – 30mic. PP film can be metalized, resulting in improved gas barrier properties for products requiring long shelf life. PP film is well-suited for many industrial, consumer, and automotive applications.
Specifications
Material: 100% virgin PP plastic
Size: diverse specifications with width from 500mm – 1500mm, adhesion from 10mic – 30mic, manufactured according to customer's sample requirements.
Thickness according to the customer's request
Capacity: 10 – 50 tons/month
Please provide us with your required product specifications, our aim is to provide you with the most suitable products as well as the best service.

Benefits
PP film is used for many common packaging applications such as confectionery, snacks, and food packaging. Because PP has only average gas barrier properties, it is often coated with other polymers such as PVDC or acrylic, which greatly improves its gas barrier properties.
Polypropylene film or PP film is a flexible plastic with clear, high gloss, and good tensile strength. It has a higher melting point than PE, making it suitable for applications requiring high-temperature sterilization.

Features
Some of the most important properties of PP films are:
Chemical resistance: Bases and dilute acids do not react readily with polypropylene, which makes it a good choice for containers with liquids, such as detergents, first aid products, etc.
Elasticity and Toughness: Polypropylene will work with elasticity within a certain deflection range. Toughness is a technical term defined as the ability of a material to deform without breaking.
Resistance to breakage: Polypropylene retains its shape after many twists or turns.
Insulation: Polypropylene is very resistant to electricity and is very useful for electronic components.
Production process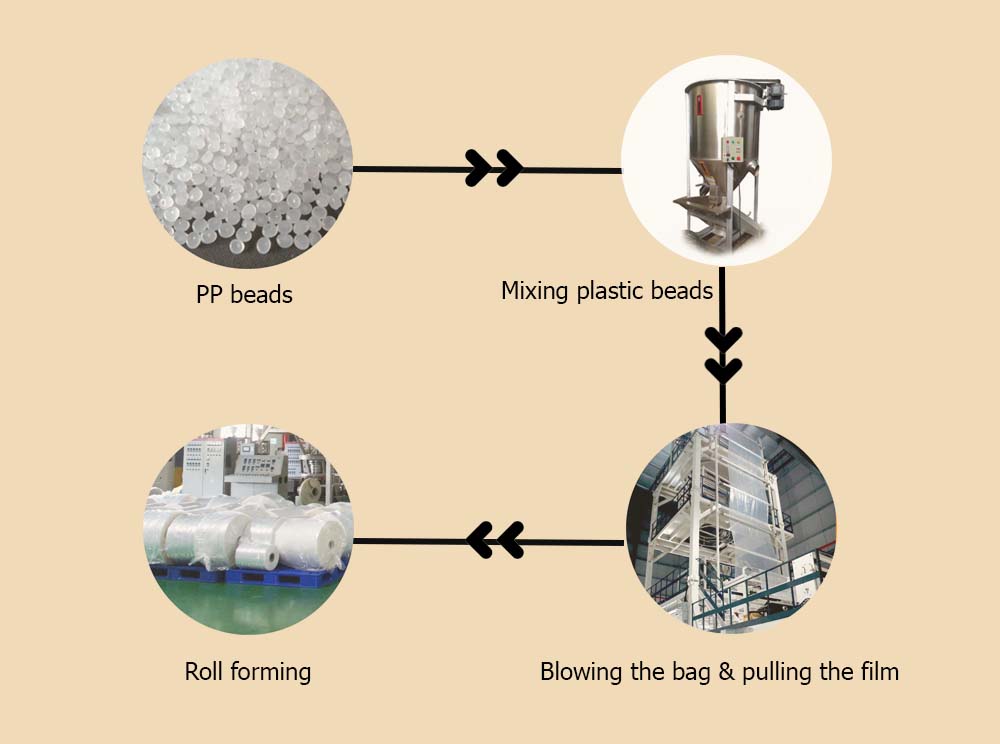 Why choose us?

Bao Ma Production & Trading Co Ltd is complying with ISO 9001-2008 which ensures the quality control system and the ability to produce different materials and sizes of poly bags and rolls, including:
Packing products for agricultural, aquatic, food consumption, and industrial purposes.

Zip-lock bags, shopping bags, garbage bags, and plastic carriers.

Plastic sheeting

Perforated plastic roll

Poly roll of 2m – 4m measurement for the use of lining prawn-raising ponds, for construction sites and sewage system usage, and as cover sheets for agricultural and industrial purposes.

Printing services on packages of up to 6 colours with customization

Trading various plastic raw materials such as PP, HDPE, LDPE, LLDPE…
So, please contact us via hotline: 0963 16 11 55 – 0903 814 184 and let us be honoured to serve you in the best way possible.
BAO MA PRODUCTION & TRADING COMPANY LIMITED
Address: No. 21 Tan Tao Industrial Park, Road No. 3, Tan Tao A Ward, Binh Tan District, HCMC
 Tel: 
Ms Kim Tuyen: 0963.16.11.55 (Vietnamese)
Mrs HelenLy: 0903.814.184 (English – Chinese)
 Email: info@poma.com.vn
 Website: www.poma.com.vn