What is a PP bag?
PP bag is a type of plastic bag produced from PP film and applied in many areas of life. We specialize in the production of PP plastic bags in staple pack bags, die-cut bags/sheets, side-weld industrial cut bags, PP bags printed with product advertising, logo-printed bags, brands for businesses, and other speciality and custom products.
Specifications
Material: 100% virgin PP plastic
Straps: perforated mango seed, 2 handles, bag with no handle, zipper mouth
Size: various specifications from 03cm – 80cm, manufactured according to customer's sample requirements.
The thickness on request: up to 3mic export standard
Colour: transparent or according to the customer's request
Capacity: 10 – 50 tons/month
Please provide us with your required product specifications, our aim is to provide you with the most suitable products as well as the best service.
Benefits
The largest application is in the food, confectionery, and beverage packaging industries. It can be said that in the production process of processing industries, this bag is indispensable because of its large size and very high thickness, so it can preserve the product in the best state. In addition, items such as cereals, flour, sugar, salt, fertilizers, etc. are also often used for this type of bag due to its high toughness.
In recent years, the agricultural industry has also used PP plastic bags more and more, especially in the production of oyster mushrooms (abalone mushrooms), reishi mushrooms, wood ear mushrooms, and other mushrooms that need to be packaged when growing. Due to its high elasticity, toughness, and high heat resistance, PP bags are chosen by mushroom growers to be used in bags to reduce bag tearing, and stretchy deformation when autoclaved up to 121 degrees Celsius with moisture. Using this type of bag has really brought great economic benefits to professional mushroom growers or farmers.
PP bags are also used to grow ornamental flowers and plants such as orchids to reduce the rate of tearing and deformation during the process of planting seed pots.
In addition, we can provide HD / PE / PP sheets to serve the industrial packaging needs of many customers.
Please provide us with your required product specifications, our aim is to provide you with the most suitable products as well as the best service.
Features
Transparent PP bag with high gloss surface for high printability, and clear print.
PP bags have good temperature resistance (more than 100°C), waterproof, moisture, steam, and grease resistance.
PP bags have a high thickness, high toughness, and durability.
PP bags have high elasticity and good heat resistance.
PP bags are safe for users.
Production process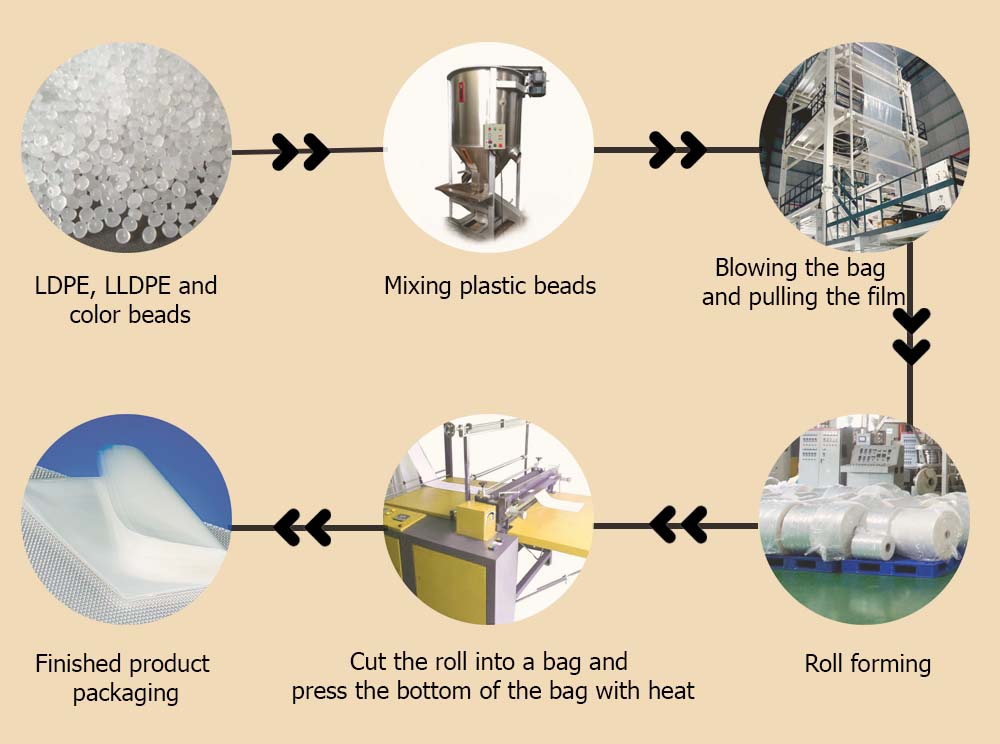 Why choose us?

Bao Ma Production & Trading Co Ltd is complying with ISO 9001-2008 which ensures the quality control system and the ability to produce different materials and sizes of poly bags and rolls, including:
Packing products for agricultural, aquatic, food consumption, and industrial purposes.

Zip-lock bags, shopping bags, garbage bags, and plastic carriers.

Plastic sheeting

Perforated plastic roll

Poly roll of 2m – 4m measurement for the use of lining prawn-raising ponds, for construction sites and sewage system usage, and as cover sheets for agricultural and industrial purposes.

Printing services on packages of up to 6 colours with customization

Trading various plastic raw materials such as PP, HDPE, LDPE, LLDPE…
So, please contact us via hotline: 0963 16 11 55 – 0903 814 184 and let us be honoured to serve you in the best way possible.
BAO MA PRODUCTION & TRADING COMPANY LIMITED
Address: No. 21 Tan Tao Industrial Park, Road No. 3, Tan Tao A Ward, Binh Tan District, HCMC
 Tel: 
Ms Kim Tuyen: 0963.16.11.55 (Vietnamese)
Mrs HelenLy: 0903.814.184 (English – Chinese)
 Email: info@poma.com.vn
 Website: www.poma.com.vn