Vegetables and fruits are essential foods for each person and must be kept fresh. Therefore, plastic packaging is applied to ensure the needs of consumers and agricultural companies.
What is a plastic bag for vegetables and fruits?
At farms and agricultural supply facilities, plastic packaging is an indispensable part to increase brand identity. Plastic bags, also known as plastic bags/plastic packaging, are a type of packaging produced from plastic particles. They are very flexible and have many benefits to the packaged product.
Plastic bags for vegetables and fruits are commonly used bags in food stores and supermarkets. This type of bag plays the role of helping to preserve vegetables from being crushed during the transportation, as well as sorting vegetables displayed on shelves to help customers easily choose.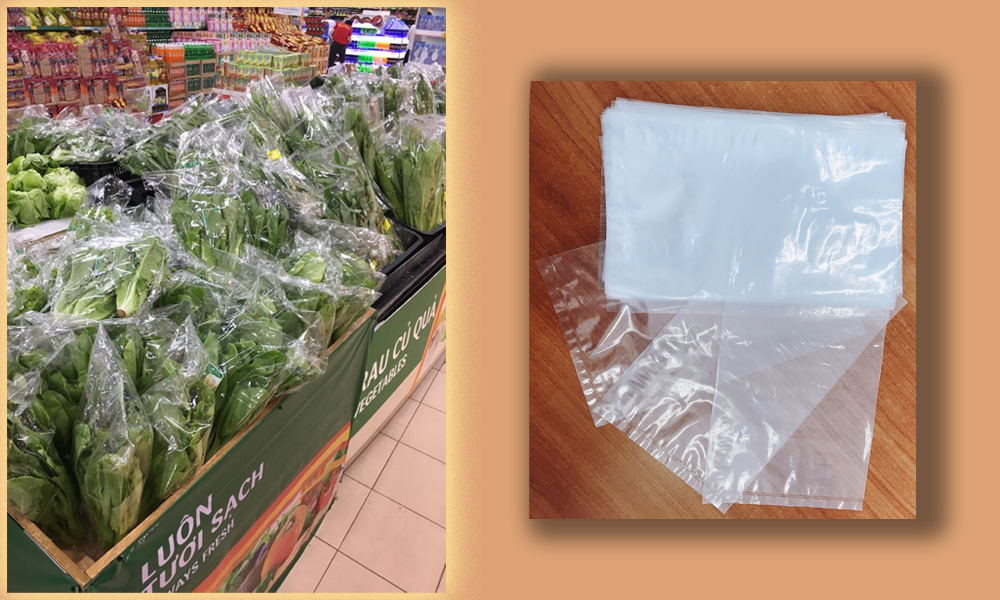 Features of plastic bags for vegetables and fruits
Because vegetables and fruits are always required to be fresh and not damaged, most plastic bags containing these products are transparent so that customers can clearly see the products inside to choose from. Vegetables need to breathe to not get waterlogged, so many units require punching holes in the plastic bags.
Materials for the production of plastic bags for vegetables and fruits
Plastic bags for clean vegetables are manufactured from PP or PE plastic, each with different characteristics. Depending on your needs, you can choose the right type of bag. You can rest assured, that no matter what material is used, this bag is odourless and non-toxic, suitable for protecting and wrapping food safely.
Size of plastic bags for vegetables and fruits
The property of plastic is flexible so it is easy to manufacture to the shape and size you desire. Depending on the size of the product, you will choose the appropriate size of the plastic bag. And the plastic manufacturing company will ensure to meet the size from small to large.

Benefits of plastic bags for vegetables and fruits
Vegetables and fruits are indispensable foods in today's life. Therefore, shops and supermarkets selling agricultural products all need plastic bags for packaging. Plastic bags are produced to suit a variety of units from small business households to vegetable owners or businesses.
Plastic bags have reasonable prices, durable materials and diverse sizes, so this type of bag is widely applied and creates convenience for customers when buying. Thereby creating peace of mind for customers when buying. Especially the clean vegetables are also preserved in the most reasonable way. Thereby creating peace of mind for customers in terms of food quality. In addition, plastic bags can also be printed to attract customers and help advertise the brand of the manufacturer.
Read more: Supplying plastic bags for garment industry in Ho Chi Minh City
Popular types of plastic bags for packaging vegetables and fruits:
Currently, the types of plastic bags used to store vegetables and fruits are PE and PP bags.
PE nylon bag
PE bags have transparency so that customers can see the products inside easily. You can absolutely use PE plastic bags because of the toughness, durability and transparency of the bag. The type of PE bag commonly used to store vegetables and fruits is a zipper bag.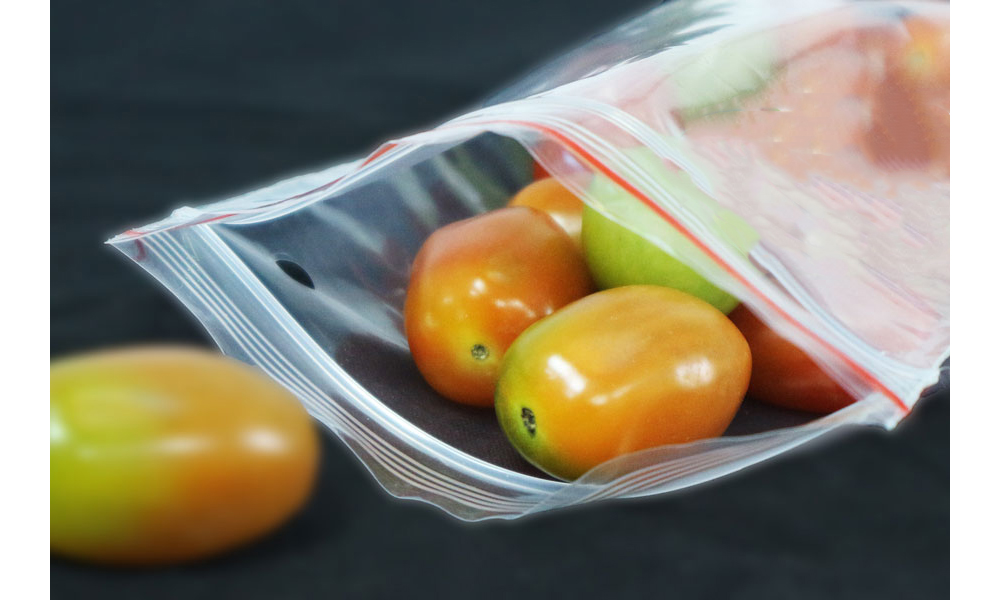 PP nylon bag
PP plastic bags are also used a lot because it has the characteristics of transparency, and soft and PP bags can be thinned or thickened according to customer requirements, and printing on the bags is also easy.
The bags are manufactured from virgin PP plastic material:
| | |
| --- | --- |
| Adhesive tape bags or super cut bags are bags with double transparent mouth glue made from high-quality PP plastic and have outstanding advantages compared to traditional packaging. Accordingly, the bag has excellent rigidity and durability and does not stretch if there are environmental factors. | |
| PP bag with the mouth is a bag with transparency, no odour, no other impurities, safe for users. Therefore, it is very commonly used in food, pharmaceutical, agriculture and many other fields of life. The bag will be pressed a line at the bottom of the bag, when using it, just put the vegetables inside. | |
| Perforated plastic bags for clean vegetables: flat bottom bags, transparent or opaque, usually rectangular in shape. On the surface of the plastic bag are punched, and stamped thousands of holes on a bag for the purpose of ventilation or ventilation for the products contained inside. Small diameter vents ensure ventilation but retain moisture so that vegetables and food stay fresh longer. | |
Solve the problem of water vapour in the process of packing and preserving vegetables and fruits
Transpiration is a phenomenon in which water from the body of vegetables escapes through the stomata and outer skin. This is a phenomenon that often occurs during the preservation of agricultural products. Especially for products that contain a lot of water in the cells, such as vegetables. The transpiration causes the vegetables to lose water, thereby causing the product to wilt, reducing the sensory value. At the same time, dehydration will make vegetables and fruits lose weight, disrupt physiological activities, reduce antibacterial ability … and as a result, make vegetables quickly rotten.
To overcome this situation, we use PP bags with many holes for steam to escape and can cut 2 more corners of the bag for water to easily escape.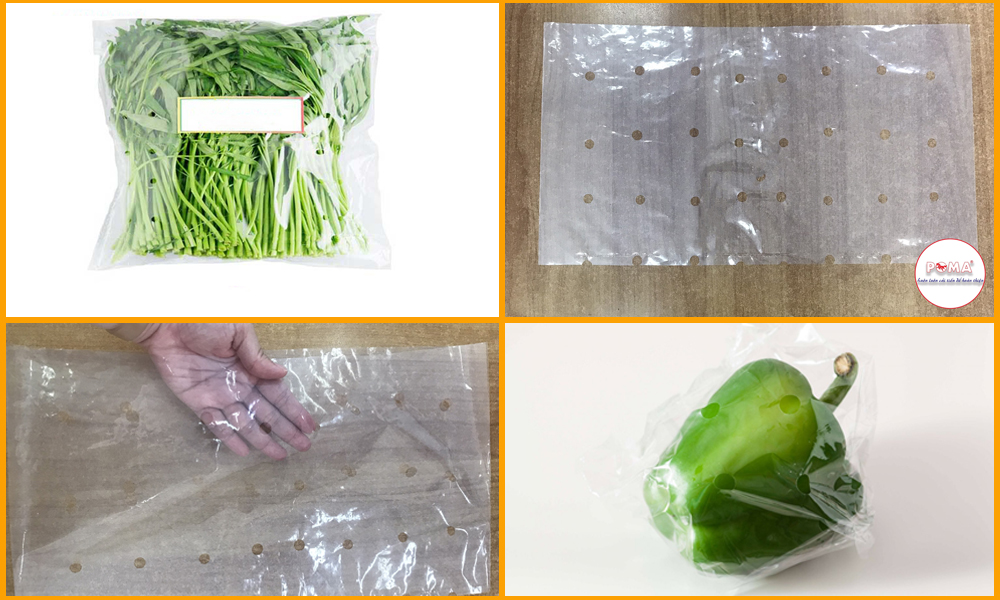 Why choose us?

Bao Ma Production & Trading Co Ltd is complying with the ISO 9001-2008 which ensures the quality control system and the ability to produce different materials and sizes of poly bags and rolls, including:
Packing products for agricultural, aquatic, food consumption, and industrial purposes.

Zip-lock bag, shopping bag, garbage bag, plastic carriers.

Plastic sheeting

Perforated plastic roll

Poly roll of 2m – 4m measurement for the use of lining prawn-raising ponds, for construction sites and sewage system usage, and as cover sheets for agricultural and industrial purposes.

Printing services on packages of up to 6 colours with customization

Trading various plastic raw materials such as PP, HDPE, LDPE, LLDPE…
So, please contact us via hotline: 0963 16 11 55 – 0903 814 184 and let us be honoured to serve you in the best way possible.
BAO MA PRODUCTION & TRADING COMPANY LIMITED
Address: No. 21 Tan Tao Industrial Park, Road No. 3, Tan Tao A Ward, Binh Tan District, HCMC
Hotline
Ms Kim Tuyen: 0963.16.11.55 (Vietnamese)
Mrs HelenLy: 0903.814.184 (English – Chinese)
Email: info@poma.com.vn
Website: www.poma.com.vn