The transparent PE bag for sugar is manufactured from high-quality PE plastic, the transparent packaging surface can see the pure sugar particles inside.
Specifications
Material: 100% virgin PE plastic
Size: diverse specifications from 04cm – 140mm, manufactured according to customer's requirements.
Thickness according to customer's request
Capacity: 10 – 50 tons/month
Normally, PE bags for sugar will have 2 sizes, 0.5kg, and 1kg. Please provide us with your required product specifications, our aim is to provide you with the most suitable products as well as the best service.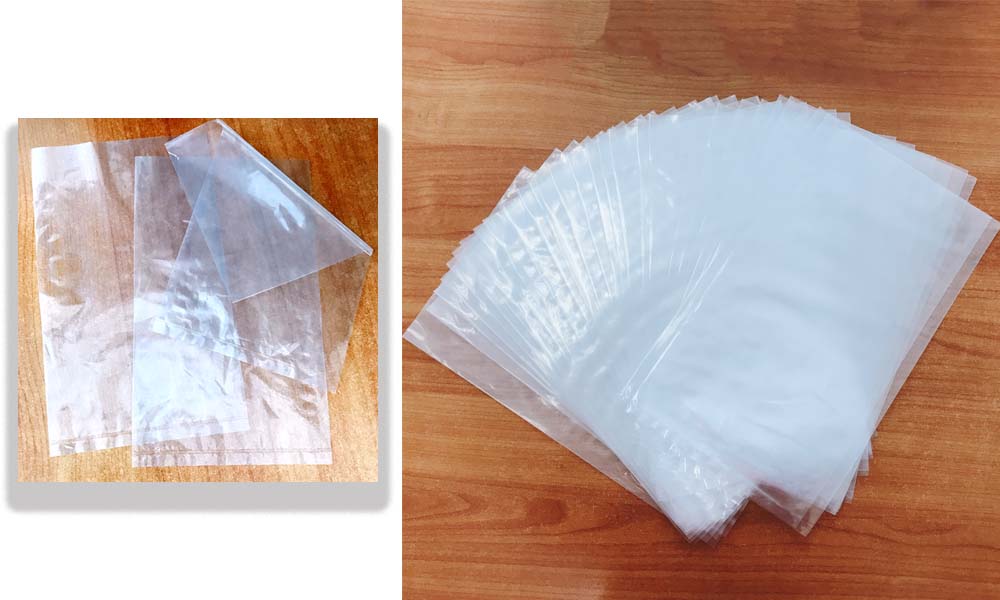 Uses of transparent PE bags for sugar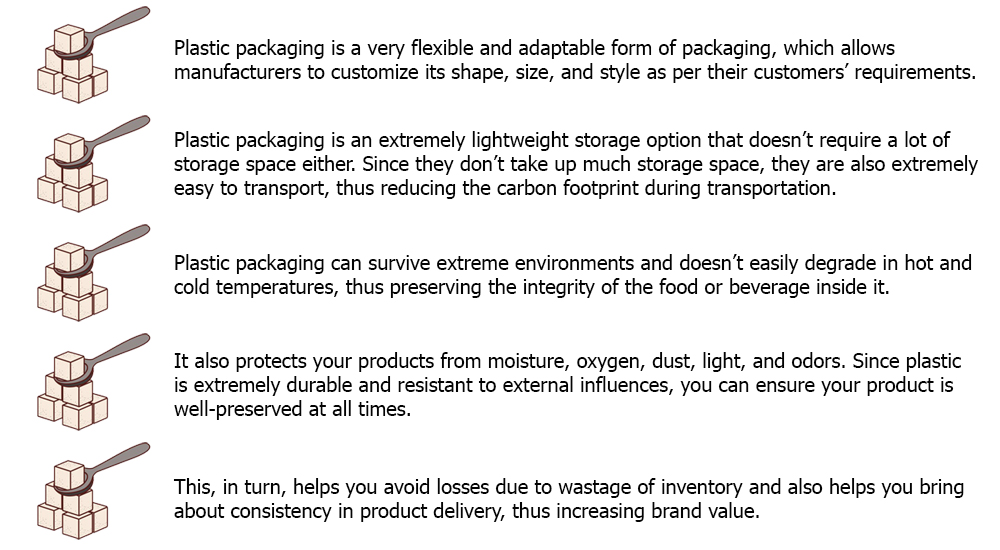 Are PE plastic bags safe for users?
Bao Ma has obtained the Certificate of food safety eligibility according to the regulations on the production of plastic packaging (PE, PP, HDPE)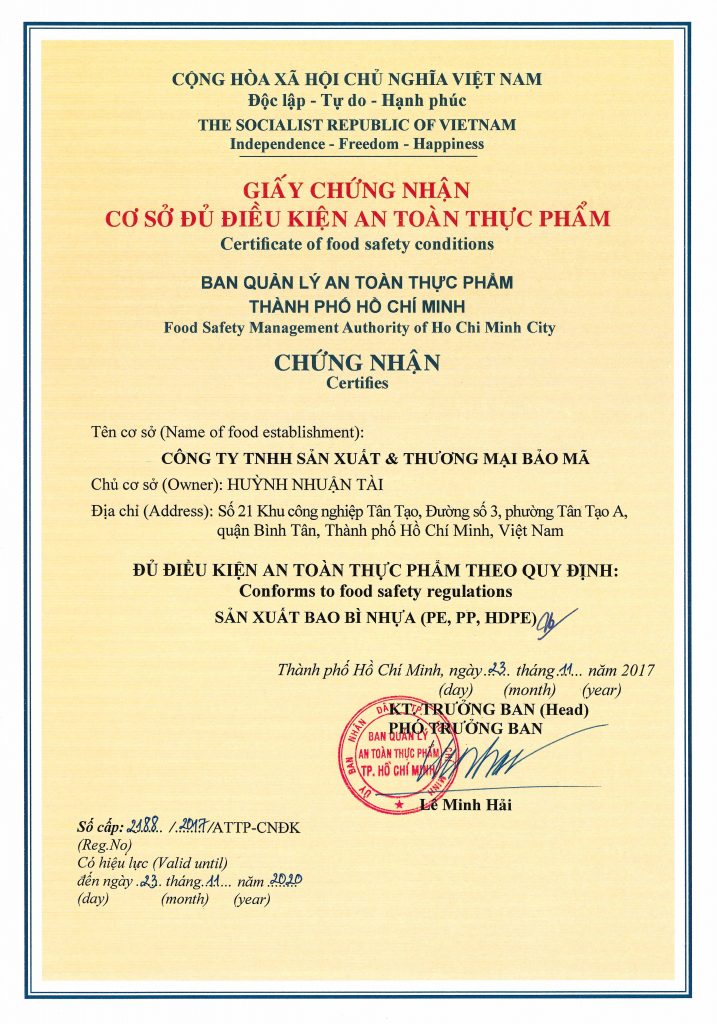 The importance of certificates
Certification as a commitment of businesses in controlling hazards and ensuring food safety for consumers…
The value of certification can be expressed in the following aspects:
Demonstrating to consumers about food safety.

Certification as proof of food safety and hygiene of enterprises in the field of food production, processing, and supply.

Improve the capacity of Enterprises in food management.
Conditions for obtaining certification
To achieve this certification, enterprises must meet the following basic conditions:
The factory conditions meet the requirements according to the specified standards Implement and maintain a food safety management system according to ISO
The certificate can be applied to food manufacturing and trading enterprises such as:
Functional foods.

Enterprises producing vegetables, tubers, fruits, eggs, meat, milk, seafood.

Enterprises produce pure water, soft drinks, coffee, wine, and beer.

Enterprises producing and processing spices.

Food carriers.

Manufacturing and processing enterprises, restaurants.

System of supermarkets, retail stores.

Food packaging manufacturers.

Farming crops and livestock.
With strict regulations for a business that wants to register for a certificate of food safety eligibility according to the regulations on the production of plastic packaging (PE, PP, HDPE), you can be assured of your safety. Bao Ma's product quality and reputation when cooperating with us.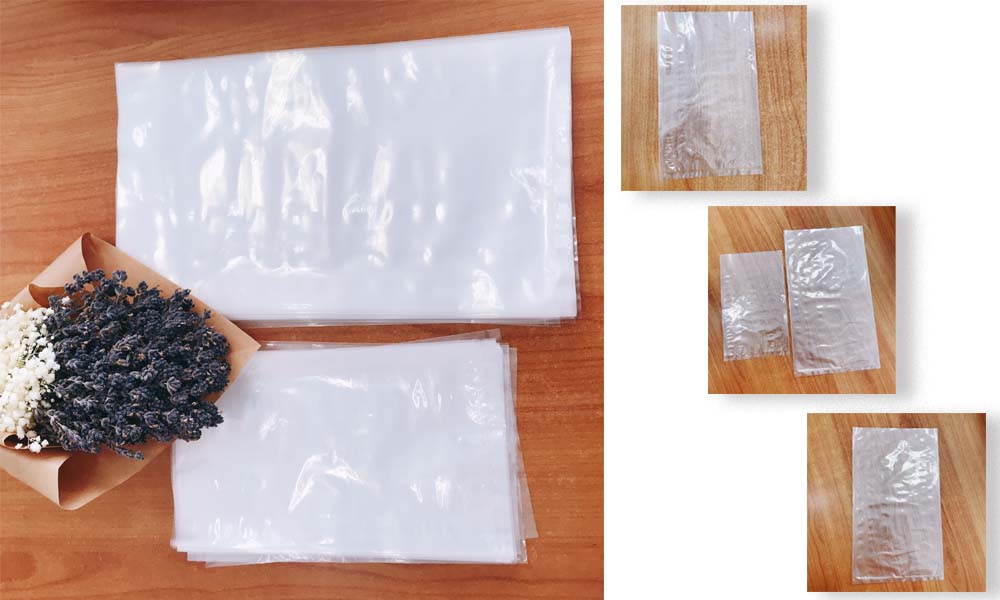 Why choose us?

Bao Ma Production & Trading Co Ltd is complying with the ISO 9001-2015 which ensures the quality control system and the ability to produce different materials and sizes of poly bags and rolls, including:
Packing products for agricultural, aquatic, food consumption, industrial purposes.

Zip-lock bag, shopping bag, garbage bag, plastic carriers.

Plastic sheeting

Perforated plastic roll

Poly roll of 2m – 4m measurement for the use of lining prawn-raising ponds, for construction sites and sewage system usage, and as cover sheets for agricultural and industrial purposes.

Printing services on packages of up to 6 colors with customization

Trading various plastic raw materials such as PP, HDPE, LDPE, LLDPE…
So, please contact us via hotline: (028) 37540 999 – 096 314 5959 and let us be honored to serve you in the best way possible.
BAO MA PRODUCTION & TRADING COMPANY LIMITED
Address: No. 21 Tan Tao Industrial Park, Road No. 3, Tan Tao A Ward, Binh Tan District, HCMC
 Tel: (028) 37540 999 – 096 314 5959
 Email: baobibaoma@gmail.com
 Website: www.poma.com.vn