More companies are palletizing freight for delivery because it's an easy way to cheaply transport large items. There is also less chance for items to be damaged when being delivered on a pallet. That's because they are handled by forklift trucks rather than boxes possibly being thrown from one man to another!
But to ultimately end up at its destination without damage, the pallet must be properly packed. Stretch film is an effective way to keep all pieces of a shipment together. If the pallet is wrapped incorrectly, it will have poor load containment and will increase the risk of product damage. It's vital to ensure that the pallets are wrapped properly so that there is no risk to the load.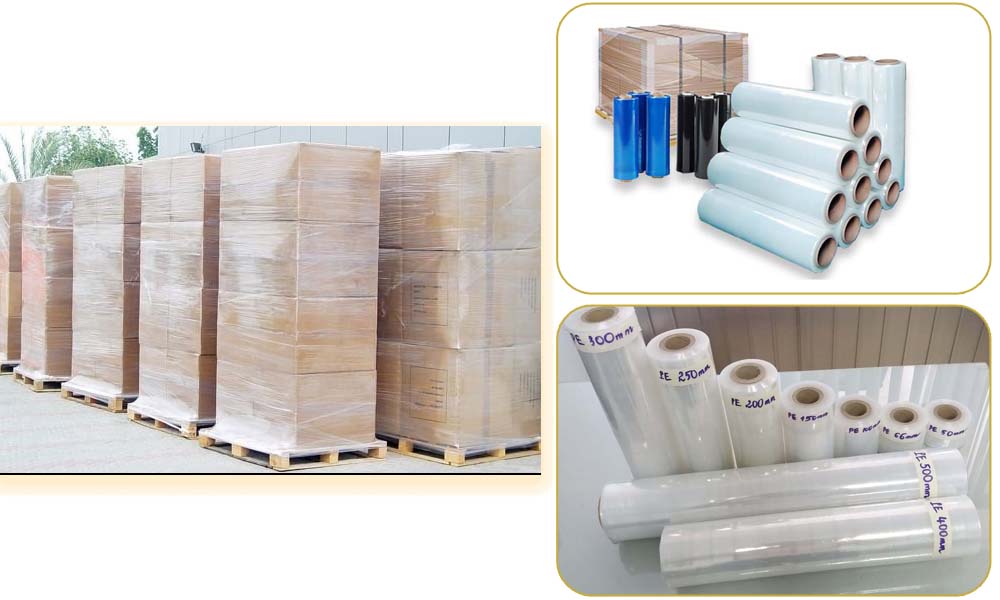 What is pallet stretch film?
Industrial PE stretch film made from LLDPE (Linear-Low Density Polyethylene) material is a type of wrapping film that is widely used in many different fields. It is very useful in packing, palletizing, and fixing. This not only helps ensure the goods are secure during transportation but also protects the product's surface from damage caused by oxidation, corrosion, peeling, rust, etc. when stored from harmful effects. external harmful factors such as water, moisture, dirt from outside. This product is widely used in factories, industrial parks, and manufacturing.
Read more: Transparent PP bag for clean vegetables
Uses of stretch film to wrap pallets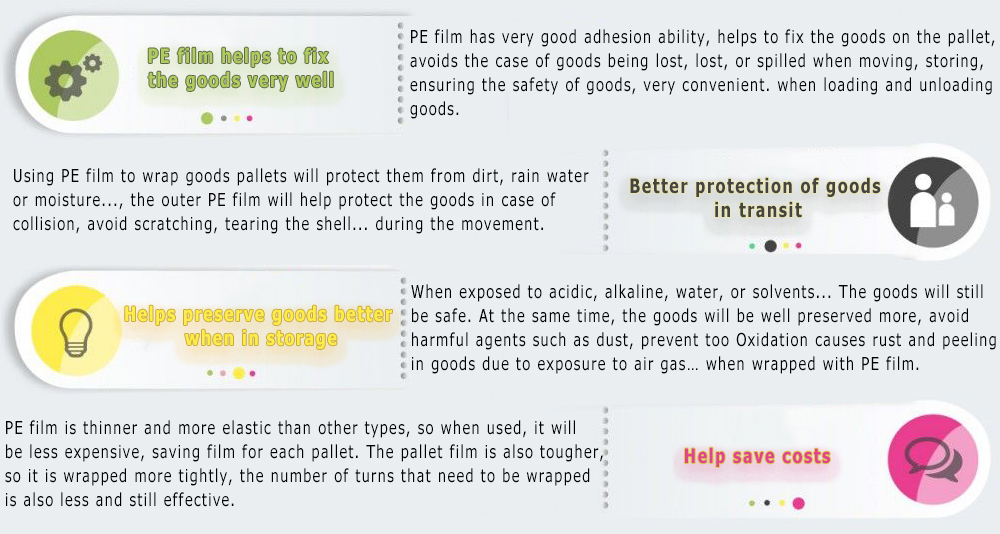 How to properly use stretch film to reduce shipping damages
It won't be a problem if you own a wrapping machine with automatic stretch film.
But if you don't feel the need to buy a machine, you can use manual stretch film and follow the steps below.
Grab a roll of stretch wrap
First, you have to buy hand stretch film to wrap your pallet. Stip is that you should buy from a reliable supplier to ensure that the quality of the stretch film is good. If you have intended to buy in large quantity, you can buy here.
The pallet should have optimum load stability. You should place the outer face of the film towards the product to be wrapped.

Wrap from the bottom of a load
From the bottom, apply a minimum of three complete layers of the film around the base of the pallet before moving upwards.
Stretch the film until there is an obvious resistance but do not overstretch it. Maintain a distance of approximately 300mm away from the load as you walk around it.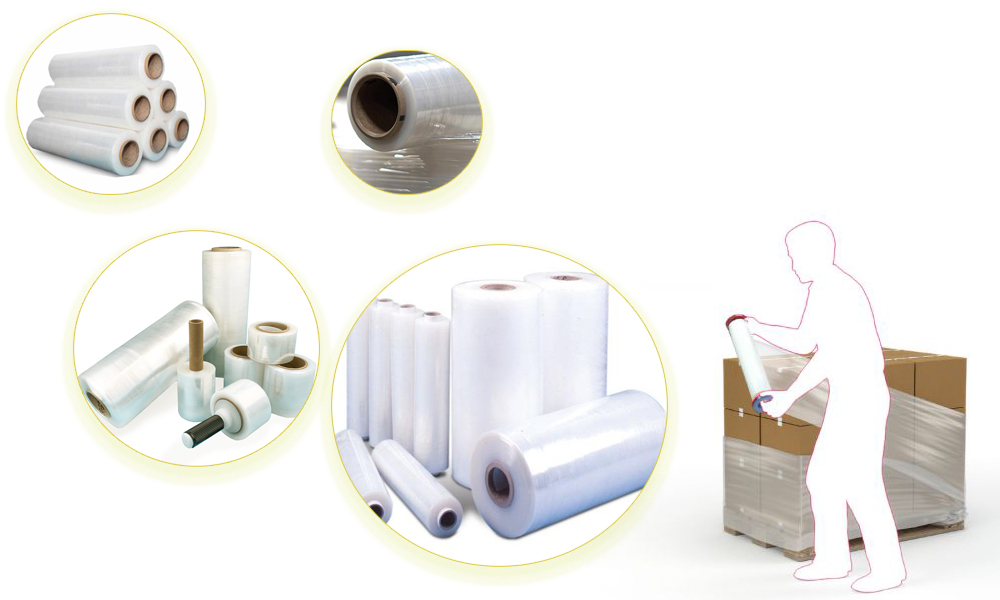 Continue to work upwards with a layer overlap of approximately 50%
Upon reaching the top of the pallet, secure the load and bottom product at least two more times.
Upon completing the final layer, cut the film off approximately 30cm from the corner of the pallet secure it against the side of the load by pressing it firmly so that it will stick. The end of the film should be tied to the corner of the pallet with a simple knot.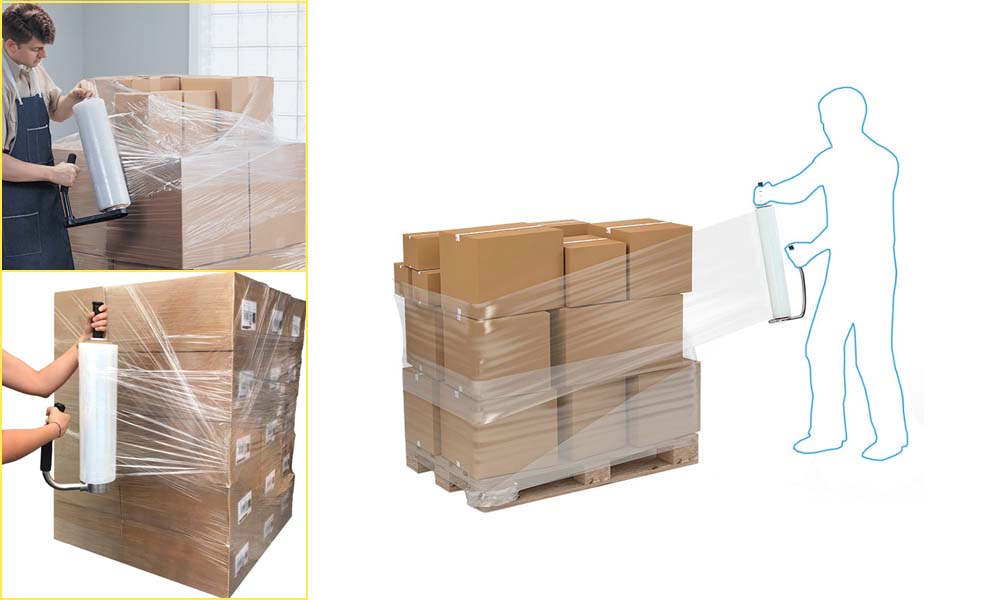 Why choose us?

Bao Ma Production & Trading Co Ltd is complying with the ISO 9001-2015 which ensures the quality control system and the ability to produce different materials and sizes of poly bags and rolls, including:
Packing products for agricultural, aquatic, food consumption, industrial purposes.

Zip-lock bag, shopping bag, garbage bag, plastic carriers.

Plastic sheeting

Perforated plastic roll

Poly roll of 2m – 4m measurement for the use of lining prawn-raising ponds, for construction sites and sewage system usage, and as cover sheets for agricultural and industrial purposes.

Printing services on packages of up to 6 colors with customization

Trading various plastic raw materials such as PP, HDPE, LDPE, LLDPE…
So, please contact us via hotline: (028) 37540 999 – 096 314 5959 and let us be honored to serve you in the best way possible.
BAO MA PRODUCTION & TRADING COMPANY LIMITED
Address: No. 21 Tan Tao Industrial Park, Road No. 3, Tan Tao A Ward, Binh Tan District, HCMC
 Tel: (028) 37540 999 – 096 314 5959
 Email: baobibaoma@gmail.com
 Website: www.poma.com.vn