Currently, fashion-oriented items are being chosen by many consumers. Part of it is also thanks to the outstanding development of the economy and society. At that time, consumers will tend to pay more attention to material and spiritual life. In particular, the needs for fashion and aesthetics are also greatly enhanced and promoted.
Market overview
In fact, we will see that most consumers own a large number of shoes. On average, each consumer will have about 2 to 3 pairs of shoes at a time. Thus, if multiplied by the total population of Vietnam, we will get a huge number of shoes. Therefore, it can be said that the human demand for this item is very large.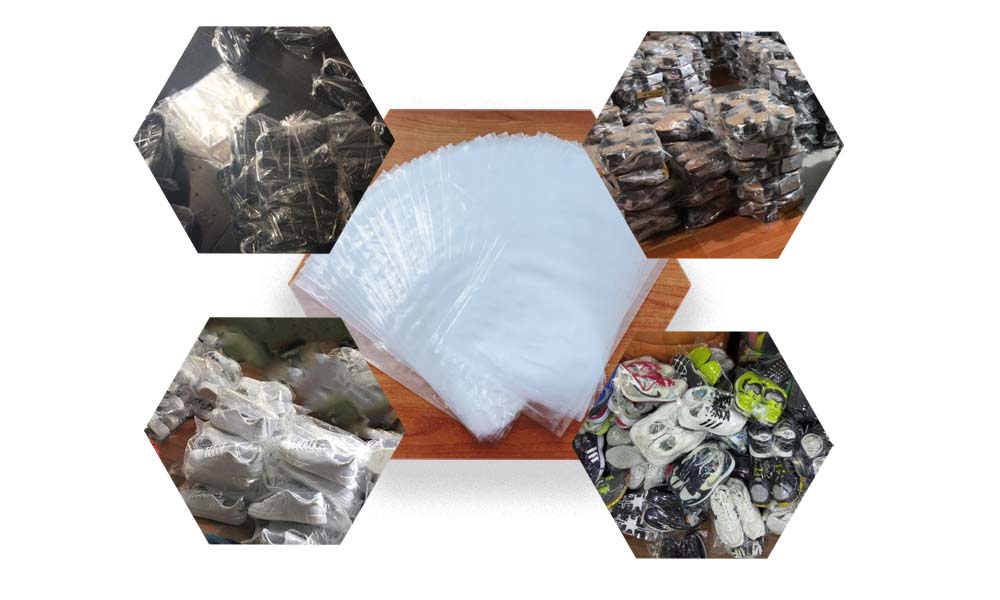 Currently, it must be said that shoes play an extremely important role in the lives of consumers. A pair of shoes or a pair of sandals not only brings health protection to your feet. Besides, this item also meets aesthetic needs; help people become more confident and comfortable in all circumstances of life.
When stepping out, we all have to consider what shoes and sandals to wear to match the outfit we're wearing. Or choose what kind of shoes and sandals suit your working environment.
According to statistics from the General Department of Customs, Vietnam's footwear export turnover in the 2016-2020 period will grow at an average rate of 7% per year. Footwear export turnover increased continuously in the period 2016 – 2019. In 2020, due to the impact of the Covid-19 epidemic, the export of footwear of all kinds reached USD 16.8 billion, down 8% compared to 2019. , but an increase of 29.2% compared to 2016.
Read more: Zipper bag – Safe food storage solution for businesses
Reasons for choosing PE plastic bags to store shoes and exports
Plastic bags at Bao Ma are made from 100% virgin PE plastic, so they have the following characteristics:
Silky

Tough, stretchable

Good load-bearing

Waterproof, gas permeable

Withstands hot weather or rain and wind

Good resistance to mold and insects…
Because of possessing many of these outstanding features, since their inception, plastic bags have gradually asserted their position and quickly covered all aspects from life to production.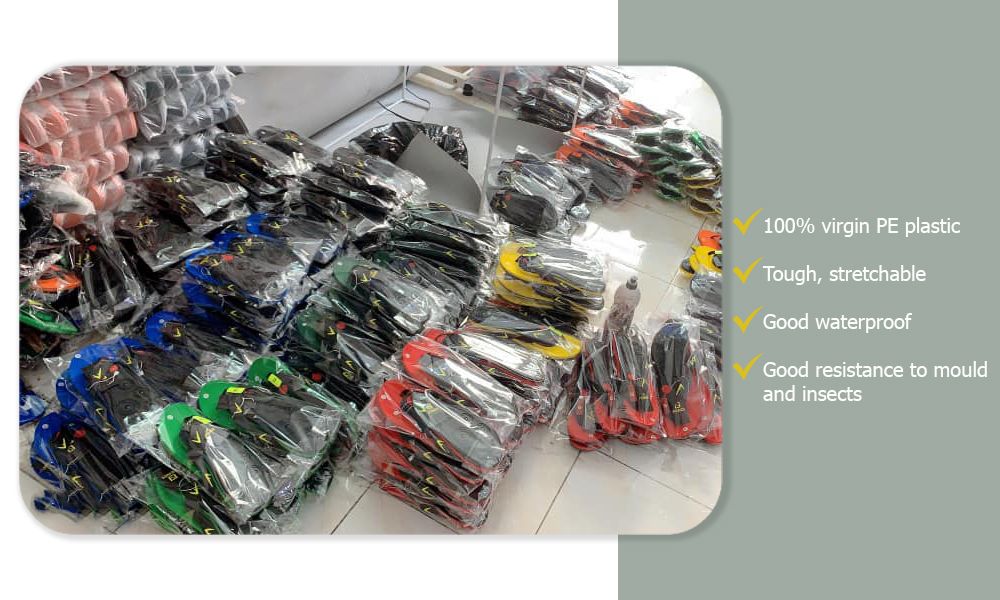 In addition, plastic bags also have many advantages for businesses:
Plastic bags have low cost, can be bought in bulk at a cheap price

Plastic bags are easy to pack and require little storage space

Lightweight nylon bags are easy to transport and save on transportation costs

Plastic bags are produced with many designs and sizes corresponding to many different types of footwear
Specifications

 

Poma Packaging specializes in manufacturing plastic bags for shoes, suitable for companies, fashion stores or containers,…
You are in need of a trading business or want to produce plastic bags for shoes, clothes, for shops, companies… please contact Poma, with a reasonable and stable price, we will are a manufacturer that provides prestige, quality, and longevity.
Why choose us?

Bao Ma Production & Trading Co Ltd is complying with the ISO 9001-2015 which ensures the quality control system and the ability to produce different materials and sizes of poly bags and rolls, including:
Packing products for agricultural, aquatic, food consumption, industrial purposes.

Zip-lock bag, shopping bag, garbage bag, plastic carriers.

Plastic sheeting

Perforated plastic roll

Poly roll of 2m – 4m measurement for the use of lining prawn-raising ponds, for construction sites and sewage system usage, and as cover sheets for agricultural and industrial purposes.

Printing services on packages of up to 6 colors with customization

Trading various plastic raw materials such as PP, HDPE, LDPE, LLDPE…
So, please contact us via hotline: (028) 37540 999 – 096 314 5959 and let us be honored to serve you in the best way possible.
BAO MA PRODUCTION & TRADING COMPANY LIMITED
Address: No. 21 Tan Tao Industrial Park, Road No. 3, Tan Tao A Ward, Binh Tan District, HCMC
 Tel: (028) 37540 999 – 096 314 5959
 Email: baobibaoma@gmail.com
 Website: www.poma.com.vn