The plastic vs cardboard packaging debate is complex. It's an argument that seems simple, but when you compare plastic vs cardboard packaging head-to-head, some of the results might surprise you. So, let's take a deeper look and find some answers.
1. Where it all begins: the raw materials
Plastic is made directly from fossil fuels, which generally take the form of crude oil, and sometimes natural gas. Most plastic eCommerce packaging is made from polyethylene, the most common plastic in the world.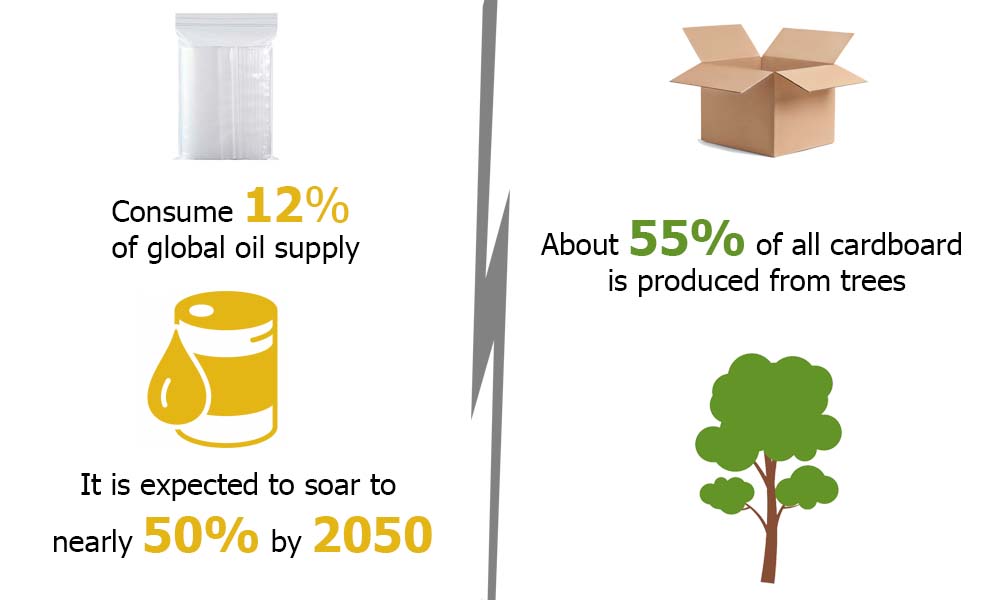 Cardboard is made from paper, which comes directly from trees. While trees can re-grow and are, therefore 'renewable' – it also depends on whether they're sourced via deforestation or from sustainable wood that is grown specifically for manufacturing.
2. The carbon footprint of manufacturing
The creation of plastic accounts for 3.8% of global greenhouse gas emissions – almost double that of the entire aviation industry. 
Paper and cardboard products also require a significant amount of energy to source and produce. However, the global carbon footprint of the industry is relatively low – only around 1% – due to manufacturers using renewable energy sources such as biomass, biogas, and hydroelectricity.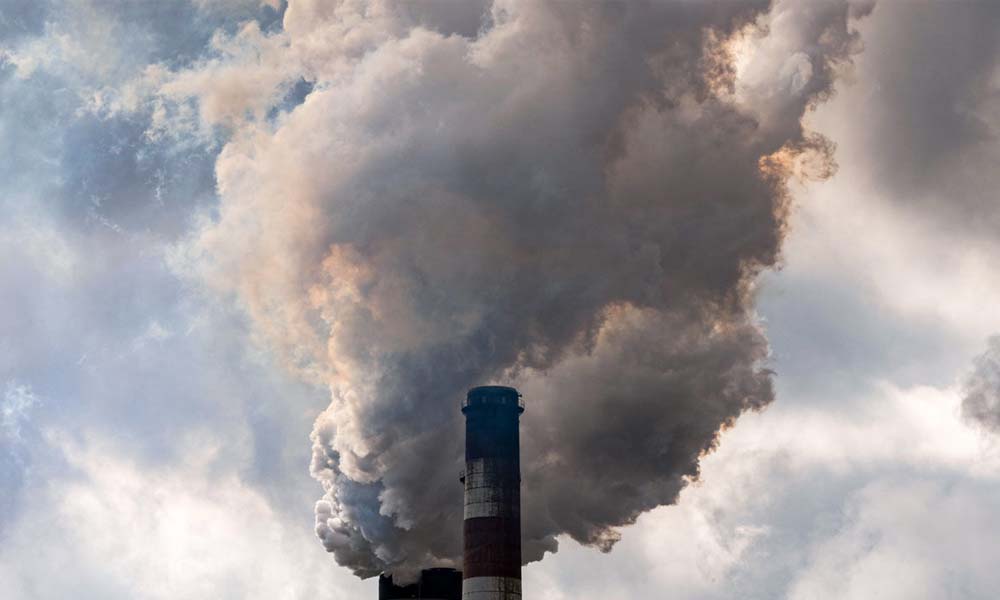 3. Plastic vs cardboard packaging: weight and its impact on transport
Plastic is popular not only because it's strong, flexible, and cheap to make – it's also very lightweight. By contrast, cardboard is considerably heavier and bulkier – presenting challenges when it comes to transport and storage.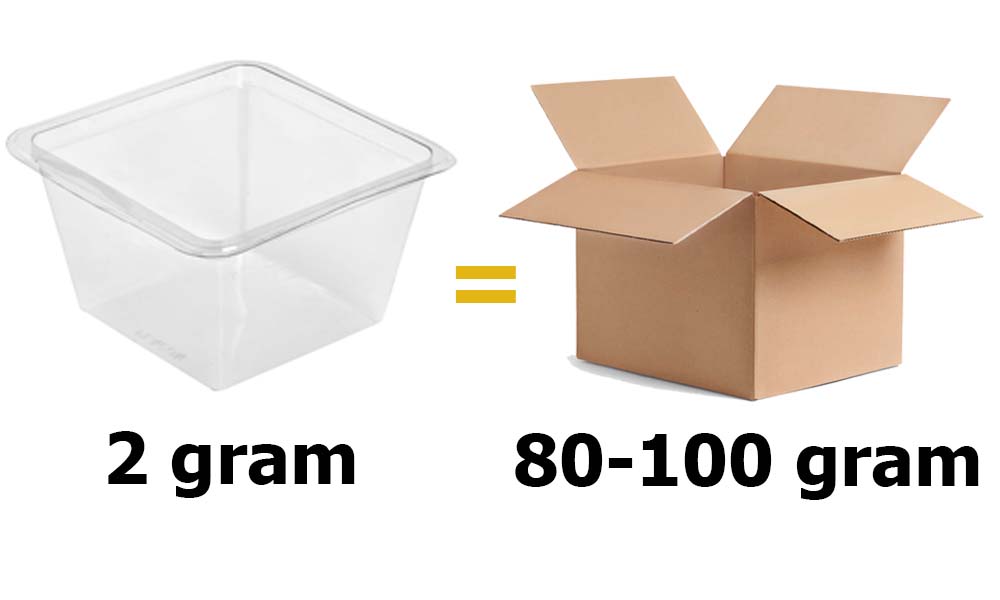 4. Cardboard vs plastic packaging compared head-to-head
To make a useful final comparison between the two, let's take a look at some of the key stats associated with creating 1kg of each material. These figures take into account not just the manufacturing process, but also the sourcing of raw materials.
Factorial
Plastic packaging
Cardboard
Materials to create 1kg of new materials

2kg of petroleum

180 liters of water.

Between 17 and 32kWh of electricity

 

3kg of wood

350 liters of water

Between 7 and 14 kWh of electricity

Recycled materials

88% reduction in energy consumption

 

25% reduction in energy consumption

50% off water

Decomposition time

400 – 1000 years

2 – 12 months

Emissions from transportation

Less than

More than

Weight

Lighter

Heavier

Greenhouse gas emissions

Accounted for 3,8%

Accounted for 1%
Perhaps the key takeaway from all of this is that regardless of whether we use cardboard or plastic – we need to reduce materials, reuse packaging, and recycle far more waste than we do today.
5.  Why choose us?

Bao Ma Production & Trading Co Ltd is complying with the ISO 9001-2015 which ensures the quality control system and the ability to produce different materials and sizes of poly bags and rolls, including:
Packing products for agricultural, aquatic, food consumption, industrial purposes.

Zip-lock bag, shopping bag, garbage bag, plastic carriers.

Plastic sheeting

Perforated plastic roll

Poly roll of 2m – 4m measurement for the use of lining prawn-raising ponds, for construction sites and sewage system usage, and as cover sheets for agricultural and industrial purposes.

Printing services on packages of up to 6 colors with customization

Trading various plastic raw materials such as PP, HDPE, LDPE, LLDPE…
So, please contact us via hotline: (028) 37540 999 – 096 314 5959 and let us be honored to serve you in the best way possible.
BAO MA PRODUCTION & TRADING COMPANY LIMITED
Address: No. 21 Tan Tao Industrial Park, Road No. 3, Tan Tao A Ward, Binh Tan District, HCMC
 Tel: (028) 37540 999 – 096 314 5959
 Email: info@poma.com.vn
 Website: www.poma.com.vn