PE bag material is made from virgin PE plastic. In addition, PE film has the property of  Saturated hydrocarbons that do not react with other chemicals at normal temperatures, with high elasticity, good adhesion, so it is very suitable for use in many industries.
Choose PE bags to store seafood
The market plastic packaging has many different types of materials, especially PE plastic bags are often used. Because of its transparent, non-toxic, and durable properties, it is safe and effective to preserve seafood.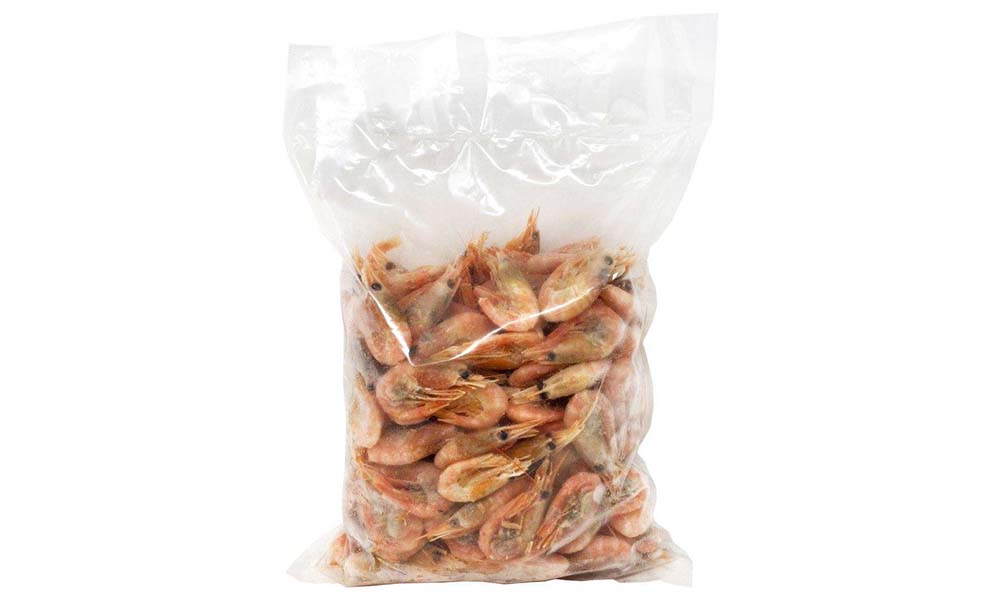 Depending on the needs of users, Poma Packaging can be ordered to produce the required bag sizes. Usually make a single bag or a double-layer bag: 1 bag on the outside has the necessary information of the company printed, the inner bag is not printed.
The design of PE bags for seafood usually has two options:
Horizontal bottom bag: commonly used in shrimp and fish hatcheries, suitable for medium and large-size fingerlings.

Cornered bottom pressing bag: The cornered bottom pressing part when pouring water it makes the bag around the bottom, avoiding the case of small fish and shrimp being clamped in the corner of the bag.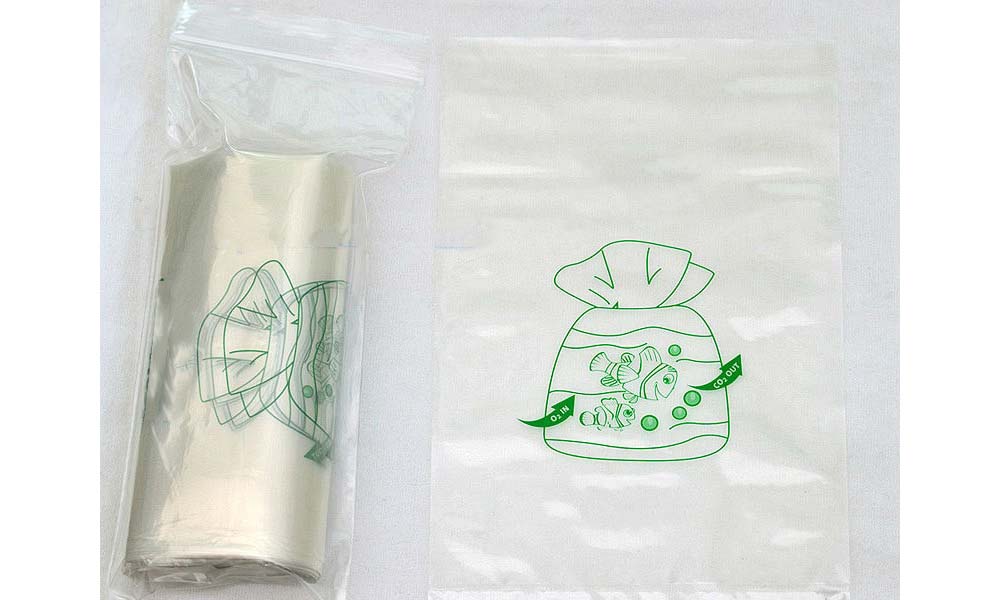 PE bags for seafood at Poma packaging
Production materials: 100% virgin plastic beads with smooth, flexible, glossy, anti-scratch to ensure quality products.
– Size: Available in sizes or manufactured according to customer requirements.
– Color: Clear white or according to customer requirements.
– Properties: Durable, tough, soft, waterproof, non-conductive, non-thermal, waterproof with grease. Note damage when in contact with essential oils or detergents such as Alcohol, Aceton, H2O2.
– Printing information: According to customer's request.
– Normal thickness of PE bag products: 30mic or more export standard.
– Bearing capacity: According to customer's request.
– Production form: PE plastic bags are blown in tube form, bottom welded or not.
Read more: Self-adhesive sealing treat bag for clothes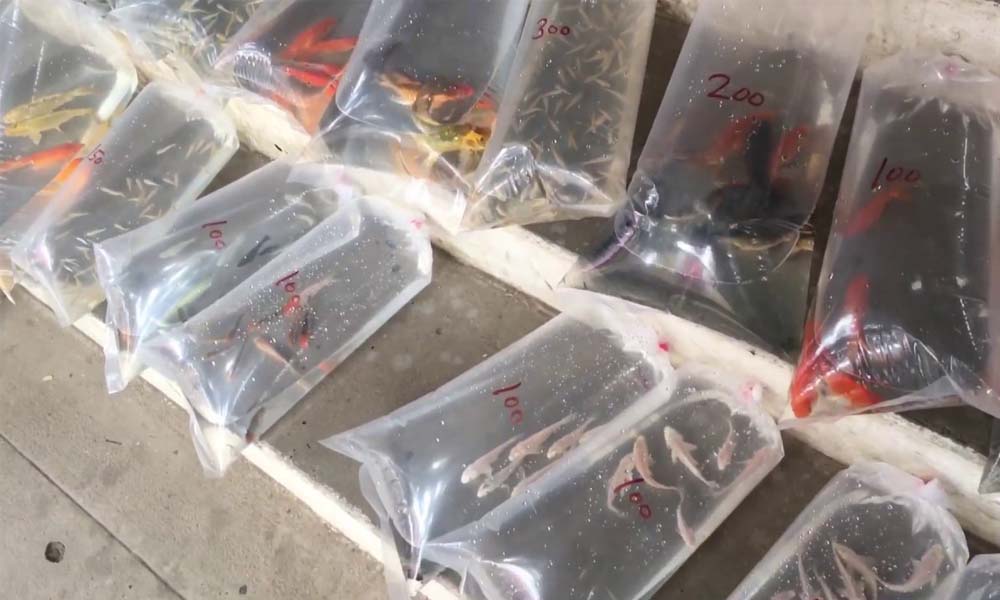 Uses of PE bags for seafood
PE bags for seafood – the optimal packaging solution for safe seafood preservation. Polyethylene has a strong barrier to protect the seafood inside from outside agents.
Transportation – PE bags for seafood are light in weight and flexible, so transporting seafood packages into trucks takes less time and effort.
Commercial Packaging – Seafood PE bags are suitable for commercial packaging of seafood. The surface of the seafood bag can be designed to carry your product and brand image.
They help the product have a longer shelf life, which is an essential element in seafood packaging.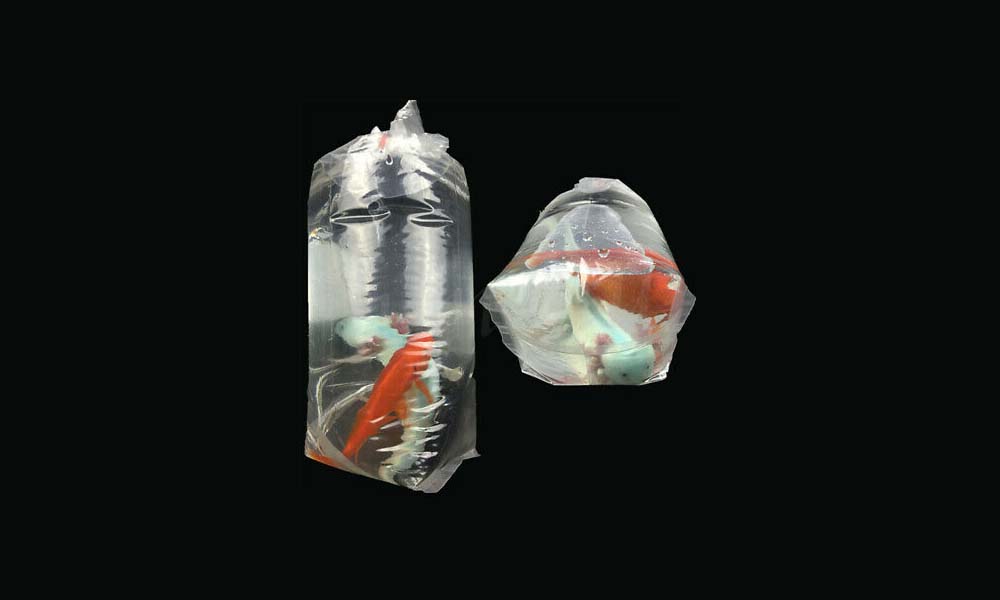 Why choose us?

Bao Ma Production & Trading Co Ltd is complying with the ISO 9001-2015 which ensures the quality control system and the ability to produce different materials and sizes of poly bags and rolls, including:
Packing products for agricultural, aquatic, food consumption, industrial purposes.

Zip-lock bag, shopping bag, garbage bag, plastic carriers.

Plastic sheeting

Perforated plastic roll

Poly roll of 2m – 4m measurement for the use of lining prawn-raising ponds, for construction sites and sewage system usage, and as cover sheets for agricultural and industrial purposes.

Printing services on packages of up to 6 colors with customization

Trading various plastic raw materials such as PP, HDPE, LDPE, LLDPE…
So, please contact us via hotline: (028) 37540 999 – 096 314 5959 and let us be honored to serve you in the best way possible.
BAO MA PRODUCTION & TRADING COMPANY LIMITED
Address: No. 21 Tan Tao Industrial Park, Road No. 3, Tan Tao A Ward, Binh Tan District, HCMC
 Tel: (028) 37540 999 – 096 314 5959
 Email: baobibaoma@gmail.com
 Website: www.poma.com.vn